Ordering Pizza on Pebble and Android Wear Smartwatches
|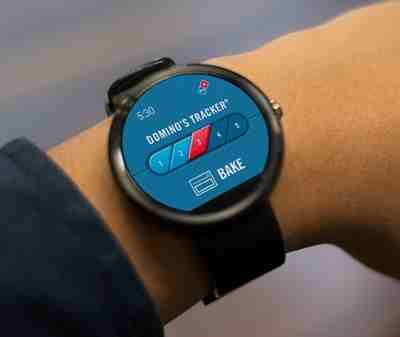 Pizza delivery company Domino's Pizza (NYSE: DPZ) is giving customers a new way to place their order, all from the convenience of their own wrist. Domino's customers can now place and track their order via Pebble and Android Wear smartwatches.
This marks the first time that Domino's ordering is available on smartwatch technology, says the company. To utilize this new ordering feature, Pebble and Android Wear smartwatch users must have Domino's app for their smartwatch, along with a Pizza Profile with a saved Easy Order or recent order.
Customers can also use the Domino's Tracker on their smartwatch to follow the progress of their order, from the time it is taken, to when it is placed in the oven, and ready for delivery or carryout.
Ordering on Pebble and Android Wear smartwatches is the first of this year's Easy Order offers and joins Domino's list of digital ordering options. Customers may order via iPad, iPhone, Android, Windows Phone 8, and Kindle Fire ordering apps or via www.dominos.com.
Leave a Reply