Pebble Smartwatch to Help You Track Your Domino's Pizza
|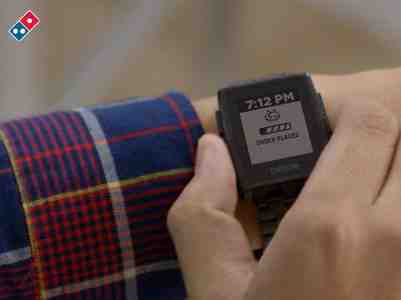 The Domino's pizza tracker, which allows customers to trace their order from the time it is taken, baked and out for delivery, will now be available on a new platform: Pebble. This marks the first time that Domino's Tracker has been available on any smartwatch device.
Pebble Technology Corp. of Palo Alto, California, debuted its first smartwatch, Pebble, in 2012. The company introduced a premium model, Pebble Steel, in January of this year.
---
Related Stories:
LG G Watch R Recognizes 11 Voice Commands with Ok Google
Pizza in a New Hut: See the All-New Pizza Hut
---
"Partnering with Pebble makes perfect sense for our brand, as we continue to innovate and reinvent the ways Domino's and technology can interact," said Kevin Vasconi, Domino's Pizza chief information officer.
Offering such features as notifications and apps, Pebble hosts an app store with over 4,000 applications – including one for Domino's.
By loading the app on your watch, and synching with the Domino's mobile app for either iPhone or Android, Domino's Tracker updates and notifications will show up directly on your watch in real time.
Domino's Tracker on Pebble is now available for use, along with the Domino's mobile app for Android and iPhone.
Photo courtesy: Domino's Pizza
Leave a Reply