Your Trusted News Source – TV, Online, Print, or Social Media?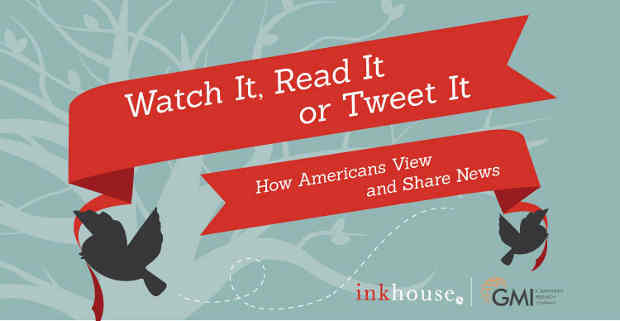 In a new survey, almost three quarters of Americans (73 percent) said they prefer to get their news from television, which also ranks first among the most trusted news outlets.
InkHouse and GMI, a Lightspeed Research company, today issued the results of a study revealing trends in American news consumption.
It highlights consumer attitudes and behaviors around reading, sharing, subscribing, paying (or in many cases not paying at all) for news.
"We live in a digital age that comes with a lot of hype around online and social media. And there should be – it's our future. But we wanted to cut through the hype to understand what is really happening when it comes to how Americans actually consume and share news today. We undertook this study to find out, and the results have important implications for communications professionals who are looking to reach their audiences through the media," said Beth Monaghan, co-founder and principal of InkHouse.
[ Also Read: Digital Marketing Simplified – Secrets of Social Media ]
Key Trends in American News Consumption:
TV is the big winner. Almost three quarters of Americans (73 percent) prefer to get their news from television, which also ranks first among the most trusted news outlets. Social media (23 percent) is the fifth preferred news outlet, behind news websites (52 percent), print magazines and newspapers (36 percent) and even radio (25 percent).
Americans still read articles (a lot). More than half of Americans (60 percent) read or watch the news every day, at an average of three to 10 news stories a day. Despite vocal debates about the detriment of social media on our ability to focus, 45 percent of Americans still prefer to read an entire article to just the headlines.
No one wants to pay for online news. Eighty-six percent of respondents believe that mobile and online news should be free. Only 10 percent of Americans pay for an online news subscription, but more than half (56 percent) pay for a print subscription.
Americans prefer to share news via email, not social media. Email edged out social media as the preferred way to share articles (34 percent versus 29 percent).
Press releases are trusted. Of company-generated news, respondents report trusting press releases the most (33 percent).
The data also revealed some generational differences:
Social media gaining traction. Forty-one percent of 18-34 year olds chose social media as their preferred news source, after television and news websites.
Social media vs. email. Not surprisingly, younger people are more likely to share news on social media: 50 percent of those ages 18 to 24 and 45 percent of those ages 24 to 35, compared to only eight percent of those 55 or older.
These research findings are based on a survey fielded in the U.S. between January 10 and 14, 2014 asking 1,000 adults aged 18+ their habits and preferences for reading and sharing the news. The survey results were released today, March 27.