Line's Group Call App Popcorn Buzz Goes Global on Android
|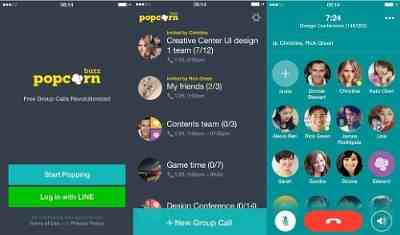 Popcorn Buzz
Line Corporation, owner and operator of the free call and messaging app Line, announced Thursday the Android launch of "Popcorn Buzz," a free group call app that allows up to 200 participants to simultaneously converse.
Anyone can get started with Popcorn Buzz by choosing a username and uploading a profile picture. By sending out each group call's unique URL via email, text message, or another communication method of the user's choice, they can start making group calls with friends without any delay.
Additionally, existing Line users can log in to Popcorn Buzz with their Line account to synchronize their friends list data and get started making group calls with their Line friends.
During group calls, users can see all the other call members' icons, and tell who is talking via the green dots that light up in the lower right-hand corner of current talking users' icons.
An upcoming iPhone release is planned, along with the implementation of additional features such as group video chat, interconnectivity with Line groups, and more in the future.
Line Corporation is based in Japan and develops and operates the Line app for smartphones.
Leave a Reply