LG G Watch R Recognizes 11 Voice Commands with Ok Google
|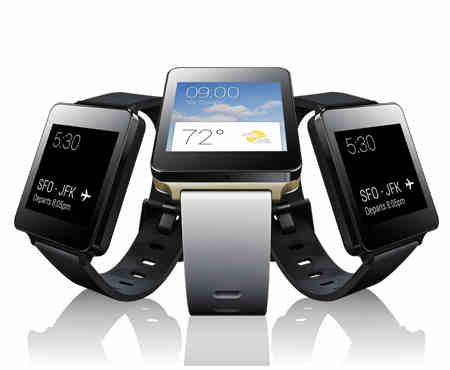 Sprint (NYSE: S) is teaming with LG to offer the LG G Watch R beginning Friday, Nov. 14.
Powered by the latest version of Android Wear by Google, LG G Watch R empowers users to sync music, organize information, and get notifications and weather updates.
It is compatible with all Android smartphones – running Android 4.3 or later – such as LG G3, also available on Sprint, by downloading the Android Wear app from Google Play.
"Wearables like the G Watch R bring our customers' most necessary information right onto their wrist," said Doug Kaufman, director-Device Strategy, Sprint. "With the Sprint nationwide network, as well as Bluetooth, users of G Watch R can stay connected to social networks, calendars and applications without missing a beat."
---
Related Stories:
Filmmaker Highlights the Dangers of Google Glass
See Nicole Lapin's Financial Smartwatch – A Wearable Device
How to Turn Your Website Content into a Magazine for Smartwatches
---
Features of G Watch R include:
Full Circle P-OLED Display – G Watch R's Full Circle Plastic OLED (P-OLED) Display offers a trendy design yet using 100 percent of its watch face, maximizing every pixel and delivering a vivid and sharp viewing experience.
Classic Watch Look and Feel – The Chronograph watch face boasts a premium PVD metal finish for increased durability. The 22mm interchangeable leather strap allows users to customize for a variety of stylish options. G Watch R users can also match their style to their strap by adjusting the look of the many different watch faces on G Watch R's P-OLED display.
Seizing Life's Greatest Adventures – Whether you're hitting the hiking trails or navigating the concrete jungle, G Watch R helps you record your steps and take your heart rate. G Watch R is powered by a 410mAh battery.
"Ok Google" – Recognizes 11 voice commands, in nine different languages, allowing users to access information quickly when paired with Android smartphones running Android 4.3 or later.
Water and Dust Resistance – IP67 certified water and dust resistant.
LG G Watch R will be available through Sprint direct ship sales channels, including Sprint Stores, Web Sales and Telesales. With Sprint Easy Pay, buyers can purchase LG G Watch R with $0 down (plus tax) and 12 monthly payments of $25 (Price: $299.99; excluding taxes).
Photo courtesy: LG
Leave a Reply