Priceline Android Wear App to Assist the Traveler
|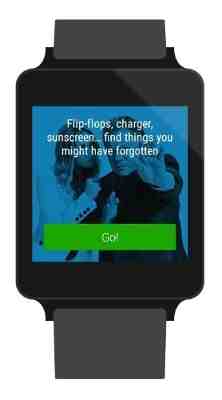 Mobile travel destination Priceline.com has launched its app for Android Wear supporting the Android mobile operating system.
The app uses Google map technology to pinpoint local places like convenience stores, ATMs and pharmacies within the vicinity of a traveler's hotel and will be available for free download from the Google Play store as of June 8.
Embedded in the Android reservation, the app creates a geo-fence around the hotel's latitude / longitude. The Wear app is triggered when the user enters the geo-fence radius, and the app will display a map of local places (e.g., convenience stores, ATMs, pharmacies) where spontaneous travelers can pick up items they may have forgotten. The Wear app map updates as the user moves and allows them to get turn-by-turn navigation, save places and more.
[ Touristly to Help You Create Your Own Itinerary to Asia ]
"The priceline.com Android Wear app allows our customers to find whatever they have forgotten by merely glancing at their wrist when near their hotel," said John Caine, chief product officer for priceline.com.
With recent Android Wear platform updates such as the always-on ambi-active display, app developers can view persistent information on the screen in a low-power mode, allowing last-minute travelers the freedom to continuously discover what's in their travel location without planning ahead or overusing battery power.
Priceline.com, part of The Priceline Group (NASDAQ: PCLN), gives leisure travelers multiple ways to save on their airline tickets, hotel rooms, rental cars, vacation packages and cruises.
Leave a Reply