Soundwall Unveils Artwork That Plays Music Wirelessly
|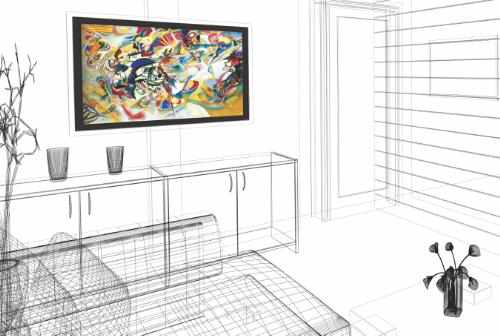 Soundwall combines art with a hi-fidelity, self-contained speaker system. Essentially, it is artwork that hangs on your wall and plays music–wirelessly, says the company.
Co-founded by David Hose and Sven Coppom, Soundwall is backed by angel investors from Silicon Valley, New York and Boulder, Colorado, according to the company.
"We love to experience and share music, yet we're tired of seeing big ugly speakers – so we envisioned a minimalistic way to integrate the two mediums of art and music," said Soundwall co-founder David Hose.
Soundwall creates hi-fidelity sound from its distributed mode speaker system. The entire surface of the Soundwall is the speaker. Each Soundwall contains a built-in Raspberry PI computer that uses Apple AirPlay and UPnP protocols to wirelessly stream music, as well as, an amplifier to deliver a sound system that is light enough to hang on your wall.
Introducing Soundwall from Soundwall on Vimeo.
Soundwall is pre-configured to the consumer's Wi-Fi settings and is compatible with iOS and Android devices. Multiple Soundwalls can be synced to play together on the same Wi-Fi network or controlled separately, furthering the multimedia experience.
Soundwall has teamed up with independent artists to provide a stock of artwork, which consumers can select to create their very own Soundwall.
Alternatively, consumers can create a custom Soundwall by uploading their own image, or even paint directly onto a blank Soundwall for a truly unique piece of art.
All prints are produced on a specialized foam core material that displays a crisp, clear image, which also provides for optimal sound reproduction.
Leave a Reply