WebMD Brings Medication Reminders to Apple Watch
|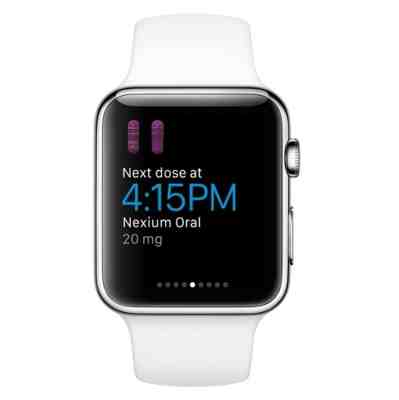 WebMD Health Corp., a leading source of health information, announced Monday plans to launch an enhanced version of its flagship mobile app with an experience built specifically for Apple Watch.
It includes a new Medication Reminder feature designed to encourage medication compliance and help improve patient outcomes. WebMD's Apple Watch app will enable consumers to view daily medication schedules and instructions, as well as pill images with dosage and timing information, plus receive reminders when it's time to take a given medication – right on their Apple Watch.
How It Works: WebMD Medication Reminders
When users open the WebMD Apple Watch app, they'll see their daily medication schedule and information about whether or not they've taken a required dose. They will also be able to read medication instructions, such as whether to take a pill with food, and access additional in-depth information on their iPhone via Handoff.
[ Comic Book to Raise Epilepsy Awareness ]
Each "Medication Reminder" notification includes customizable pill images, as well as dosage and timing information. When users are prompted to take a given medication, they are asked to log one of four possible actions:
Take the Medication
Skip the Medication
Snooze
Dismiss the Reminder
When a user chooses "Snooze," they will be reminded to take the medication again after 15 minutes. If a user chooses to "Dismiss" a given reminder, they will receive an alert at the time of the next scheduled dose.
[ What Is Precision Medicine and Why Is it Good for You? ]
WebMD's "Glance" delivers a new way for users to receive information about their medication regimen. The Glance lets users know what time to take their next scheduled dose (e.g. 12:00 PM), or if that user is scheduled to take a dose within two hours or less, they will receive a message (e.g. "Next dose in 59 minutes") instead of the time.
If the time for the last scheduled dose of the day has passed, the Glance is updated to show whether the final dose was "Taken", "Missed" or "Skipped". These options extend the functionality of WebMD's app for iPhone while delivering a new way to interact—right from your wrist.
WebMD's enhanced app with Medication Reminders will be available for download in the Apple Watch App Store beginning April 24. Consumers can get the WebMD App for iPhone now as a free download from the App Store.
Leave a Reply