Domino's Pizza Customers to Track the Order on Apple Watch
|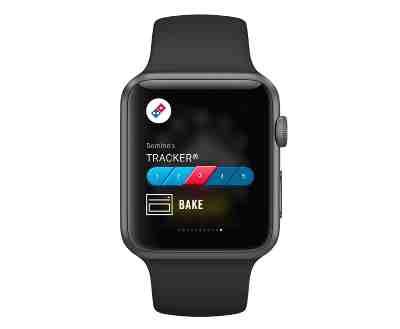 Domino's Pizza is giving customers yet another way to track their order from anywhere, at any time. Domino's is launching its new app for Apple Watch, which includes the Domino's Tracker.
Customers can now track their order from the time it is taken, to when it is placed in the oven and ready for carryout or delivery, from their Apple Watch. Domino's is one of the first in the U.S. pizza industry to bring this tracking capability to Apple Watch, says the company.
[ Text is Next in Domino's Pizza-Ordering Platforms ]
"Domino's is always looking for ways to continue leading the e-commerce industry with our customer-focused technology, and our new app for Apple Watch is no exception," said Dennis Maloney, Domino's vice president – chief digital officer.
From the watch face, Apple Watch users will be able to swipe up to quickly access the Domino's Glance. Glances are shortcuts to the apps users view most frequently. The Domino's Glance will feature a brief status update of a customer's current order.
To download Domino's app, you can visit the App Store for Apple Watch.
Leave a Reply