Verizon Survey Identifies the Worst Phone Owners in America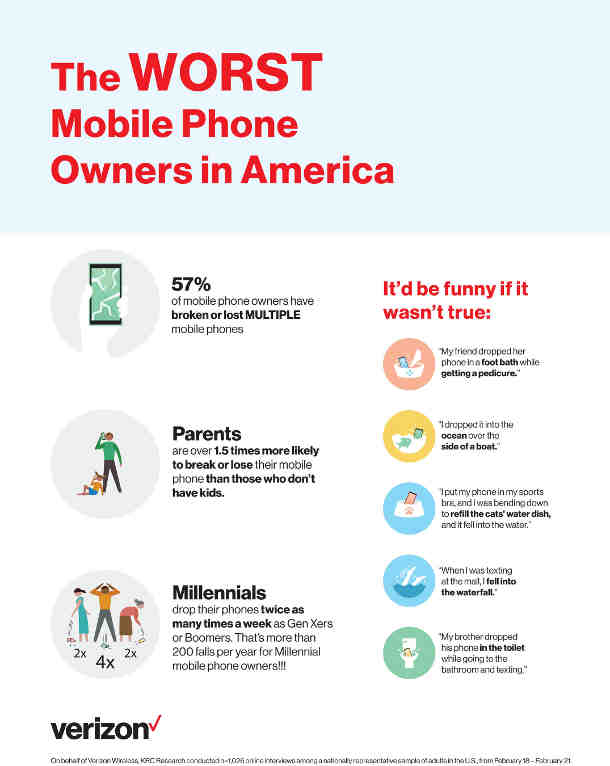 At one point or another, many mobile phone owners will experience the anguish of breaking their device. Either by sitting on it, driving over it or – perhaps worst of all – dropping it in the toilet.
In fact, a new study by Verizon and KRC Research released Friday shows that nearly half (49 percent) of American mobile phone owners have broken or lost a mobile phone – in fact, on average, they've broken or lost two!
Interestingly, Millennials in particular drop their phones twice as many times per week – an average of four – than Gen Xers or Baby Boomers. And parents are more likely to have broken or lost their mobile phone (67 percent) than phone owners without children (38 percent).
[ Should School Students Use Mobile Phones? ]
Surveying more than 1,000 consumers, the study found that phones often met their untimely end at the hands of some of the "Worst Phone Owners in America" – consumers who, through clumsiness, absentmindedness or both, have broken their phones in some of the most incredible ways imaginable.
[ Visit and Support RMN Foundation Free Schools for Children ]
Asked about the most embarrassing ways phone owners can break their devices, the top responses were:
Dropping it in water (43 percent) or sending it through the wash (42 percent)
Throwing it (22 percent)
Dropping it out of a window (20 percent)
Finding a pet chewing it (20 percent)
Tripping and landing on it (20 percent)
But you really get a clear picture of what it's like to be a mobile phone today when you hear some of the specific ways the survey respondents have broken their phones:
"Threw it at the wall after the New York Giants lost their 6th game in a row."
"Went to get into a taxi, the phone dropped while getting in…we told the cab driver to go back and the phone was run over."
"Dropped in an open atrium…where it bounced several times until hitting three floors down an open staircase."
With stories like those, it's easy to see why many consumers would prefer not to take responsibility for whatever calamity befell their phone: one in three mobile phone owners would rather replace their phone before they had to tell anyone how they broke or lost it, and another 14 percent would rather lie about how they broke it.
[ One in Five Americans Expect to Die in Debt: Survey ]
According to Pew Internet research, 29 percent of mobile phone owners describe their phone as "something they can't imagine living without."
But as mobile phone become leaner and lighter, they also become more vulnerable to damage, leaving consumers disconnected and distressed.
With 54 percent of mobile phone owners saying they drop their mobile phone at least once a week, ensuring you have a protection plan in place for your phones becomes even more important, Verizon suggests.
Leave a Reply