New Vidaa to Create Social Features on Your Smart TV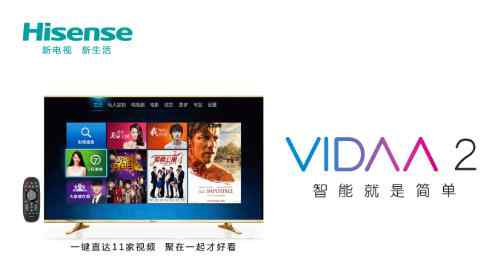 Hisense, a leading white goods and electronics company headquartered in Qingdao, China, has released the Vidaa2, a smart television set, in Beijing.
The two main features of the redefined Vidaa2 include new convergence (Juhaokan) and social (Juxiangjia) functionalities.
These are the new improvements in comparison with the preceding version launched a year ago, the Vidaa.
Hisense chairman, Zhou Houjian, expects the Vidaa2, with the embedded convergence and social functionalities, will speed the smart TV manufacturers' shift from the 1.0 to the 2.0 era.
The former focuses on internet and content applications, while the latter focuses on the more advanced convergence and social aspects, according to Hisense.
[ Also Read: Hisense Smartphone = Handset + Tablet + TV + Set-Top Box ]
With Vidaa2, TVs will become an integrator of video content. Convergence means that traditional live broadcasts and internet video will become available through one device and this is what Vidaa2's Juhaokan is designed for.
Juhaokan integrates all video content from 11 leading Chinese video providers including major contributors such as iQiyi and Sohu.
With one button, users can search across the full range of video content. Vidaa2 will start out with access to more than 800,000 videos, over 100 percent more than the number of videos available on any video website, claims the company.
[ Also Read: Amazon Brings Fire TV for Your Living Room ]
Vidaa2's Juxiangjia feature provides a private family social platform through which families can communicate and interact directly via the mobile point and the TV point.
Users can upload text and photos, parents can see what their children are doing as soon as they switch on the TV, while any family member can "like" what they see at any time.
[ Also Read: Babiis – A New Social Network for Your Family ]
Two other features have been added to the Vidaa2: the "games"(Juhaowan) feature and the "app" (Juhaoyong) feature.
Juhaowan comes with access to a collection of over 4,300 game apps, many of which are exclusive to Hisense or can be individually customized.
According to the company, Juhaoyong is an app store replete with the richest trove of content in the industry, with 26,000 apps that have been downloaded on average over 2 million times daily.