Mobile App Allows You to Win a Free Yoga Session
|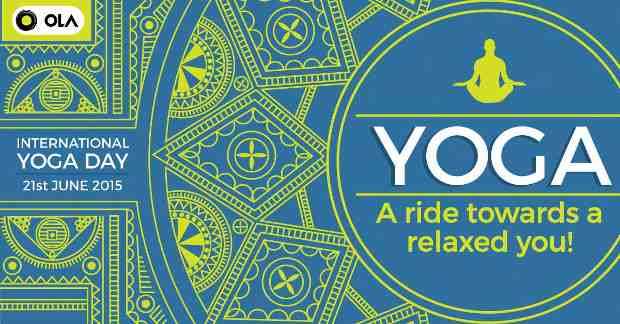 Ola, India's leading mobile app for personal transportation, will offer customers a chance to win a free yoga session, this International Yoga Day.
This initiative will let anyone in Bangalore, New Delhi, Mumbai, Chennai, Hyderabad, Jaipur, Kolkata, Ahmedabad, Chandigarh, and Indore to participate in a contest with a chance to win a free ride to a free yoga session on Sunday June 21, 2015.
The United Nations (UN) has declared June 21st as the International Day of Yoga. The resolution by Indian Prime Minister Narendra Modi, supported by over 177 countries recognizes that "yoga provides a holistic approach to health and wellbeing."
[ Yoga for Health, Yoga for Success, Yoga for Love ]
To participate in the contest, customers will have to log on to their Ola app anytime between 18th to 20th June, head to Ola Money section and then type 'YOGA' in the 'USE RECHARGE CODE' segment.
On entering the code, they qualify to participate in the contest. Winners of this contest will be informed via email on 20th June 2015. They can book their yoga session at their preferred time and venue and the credit for their free ride of Rs 250 will be added to their Ola money account.
[ Mobile App to Help You Escape Deadly Air Pollution in India ]
Anand Subramanian, director of Marketing Communications, Ola said, "Today, the world has come together to celebrate the benefits of yoga as a holistic approach to health and well-being. We have partnered with some of the best yoga studios in ten major cities to help introduce Yoga among users of the Ola app. We believe this will help them take a positive step forward in their personal well-being."
Ola (formerly Olacabs), founded in Jan 2011 by IIT Bombay alumni Bhavish Aggarwal and Ankit Bhati, is a mobile app for personal transportation.
Photo courtesy: Ola
Leave a Reply