LG Introduces LG G Watch Powered by Android Wear
|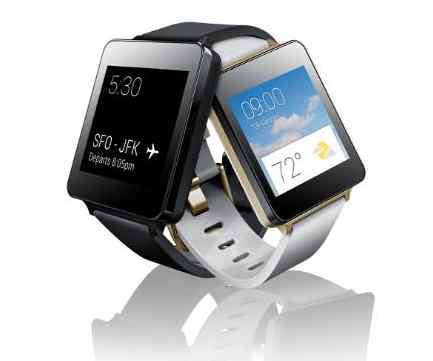 LG Electronics (LG) has introduced its LG G Watch, one of the first devices powered by Android Wear, Google's new operating system which extends the Android platform to wearables.
As a wrist wearable device featuring a button-less design, the G Watch will appeal to a mass audience with its simple minimalist design, quick and "glance-able" access to useful information and seamless connectivity with other Android devices, keeping users connected wherever, whenever, says LG.
"As one of the first to market with Android Wear, LG wanted to develop a product that functions as an essential companion device but most importantly, was simple to use," said Dr. Jong-seok Park, president and CEO of the LG Electronics Mobile Communications Company.
"We wanted a device that would be simple to learn and so intuitive that users wouldn't even have to think about how to use its features. That's what the LG G Watch is all about."
[ Also Read: Panasonic Offers "World's First" Wearable Camera ]
At the core of the LG G Watch is an energy-efficient Qualcomm Snapdragon 400 processor clocking in at 1.2GHz. Paired with a low power consuming Always-On 1.65-inch IPS display with true-to-life color reproduction, the LG G Watch enhances the functionality of Android smartphones by providing quick access to useful information.
With the Always-On screen, wearers can see what time it is anytime. Connected via Bluetooth, the LG G Watch displays messages, shows who's calling, controls music playback and more without the smartphone ever having to be removed from a pocket or bag.
[ Also Read: Glass Action: How Google Glass Helps Practice of Law ]
Integral to the LG G Watch and Android Wear is a new user experience designed around cards, which provides useful information when it's needed, and voice recognition which allows one to ask questions and get things done easily.
With voice recognition, LG was free to design the LG G Watch without any buttons or keys. Users can send text messages and search for useful information just by saying, "Ok Google". LG and Google worked closely from the initial stage of development to ensure that the LG G Watch worked as envisioned.
[ Also Read: Google Glass Offer from Fashion and Beauty Retailer ]
The LG G Watch combines form and function in a subtle, minimalist design with an intuitive touch-based user interface. And with an Ingress Protection rating of IP67, the LG G Watch is designed to be protected from dust and water resistant for up to 30 minutes to a depth of one meter.
The LG G Watch will be available in two colors — Black Titan and White Gold — and is constructed of PVD (Physical Vapor Deposition) coated stainless steel with a rugged silicone wristband in matching color. The LG G Watch can be personalized with any standard 22mm strap available in the market.
The LG G Watch will be available for pre-order on the Google Play Store starting June 25 in 12 countries including key markets such as the United States, Canada, UK, France, Germany, Italy, Spain, South Korea and Japan.
The LG G Watch will also be available soon after at retailers in 27 markets such as Australia, Brazil, Mexico, New Zealand, Singapore and Russia.
Leave a Reply