Hyundai Blue Link Smartwatch App Available for Download
|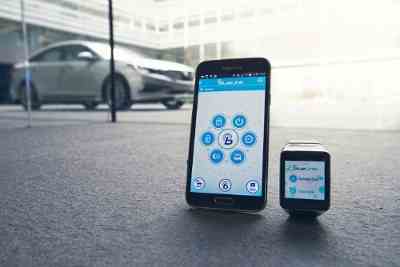 Hyundai Blue Link Smartwatch App
Hyundai has launched its Blue Link smartwatch companion app. The latest Blue Link app update on Google Play now includes the smartwatch companion app for Android Wear. The app will be available for the Apple Watch shortly after its release.
"Blue Link subscribers and gadget lovers will appreciate a more convenient way to interact with their Hyundai vehicles," said Frank Ferrara, executive vice president, customer satisfaction, Hyundai Motor America. "Now you can remote start your car with your smartphone, smartwatch, laptop, desktop or tablet. It is like being James Bond 007 or Scotty in Star Trek."
Hyundai's cloud-based Blue Link platform allows features like remote start and service information to be quickly accessed through devices like smartwatches and smartphones.
[ Volvo Brings Self-Driving Cars to Real Traffic‬‬‬‬‬‬‬‬‬‬‬‬‬‬ ]
The new app is easy to use. The wearer simply taps an icon or uses voice commands to execute remote functions. Pushing the microphone icon on the watch activates the voice function, where the driver can execute commands such as "Start my car," "Lock my car" or "Find my car."
The Blue Link smartwatch app must be paired via Bluetooth to an owner's smartphone that contains the Blue Link mobile app. Remote functions can then be executed from almost anywhere in the U.S. as long as the user's smartphone has a Bluetooth and cellular or Internet connection.
The Blue Link smartwatch app works with first and next generation Blue Link equipped Hyundai models. The first generation Blue Link system rolled out on the 2012 Sonata and expanded across the lineup through 2013.
Next generation Blue Link equipped models include the 2015 Genesis, Sonata and Azera. The smartwatch app provides all Blue Link users, including first generation owners, with even more freedom of choice when interacting with their Hyundai.
Blue Link Smartwatch features (all voice activated):
Remote Engine Start
Remote Engine Stop (Only available when vehicle is in remote engine start mode)
Remote Door Lock / Unlock
Remote Flash Lights / Honk Horn
Car Finder
Call Roadside
Call Blue Link
Hyundai Motor America, headquartered in Fountain Valley, Calif., is a subsidiary of Hyundai Motor Co. of Korea.
Leave a Reply