AT&T Simulator to End Texting While Driving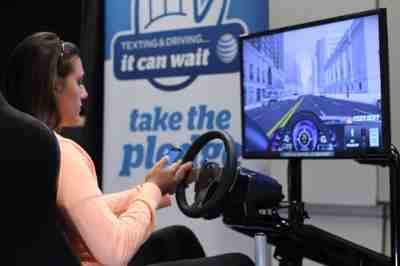 The AT&T simulator is an interactive, 3-D console akin to an arcade-style racing game. Participants sit behind the wheel of the simulator and try to maneuver around obstacles while texting on their own phones.
If the driver speeds, goes too slow, or crashes, the simulation ends to demonstrate that it's impossible to be an attentive driver while texting. During each simulator event, participants and onlookers will be encouraged to take a pledge that they will never text and drive.
Teens and adults alike will be able to experience firsthand the dangers of texting and driving as AT&T brings its It Can Wait driving simulator to schools and other locations throughout Northern California.
[ Can Sexting Improve Your Relationship? ]
Simulator Tour Schedule
The It Can Wait simulator will make more than a dozen stops, including:
Saturday, February 21 – Panama-Pacific International Exposition, Palace of Fine Arts, San Francisco
Wednesday, February 25 – We Day, SAP Center, San Jose
Tuesday, March 3 – Santa Rosa, local school
Friday, March 6 – Chico, local school
Week of March 9 (final date TBD) – Sacramento Capitol Building, West Lawn
Texting while driving is involved in more than 200,000 vehicle crashes each year, often causing injuries and deaths.
[ Nissan "Red Thumb Day" to Urge Drivers to Stop Texting and Driving ]
AT&T wants to drive home the message that texting and driving endangers your life and the lives of others through the It Can Wait campaign, a national movement tapping into the power of social media and personal networks to make texting and driving as unacceptable as drinking and driving.
Drivers can visit It Can Wait website, where they can pledge not to text and drive, then share their pledge with others via Twitter (#ItCanWait) and Facebook.
The website also offers educational resources, including a documentary featuring families whose lives changed forever because of crashes caused by texting and driving.
Photo courtesy: AT&T
Leave a Reply