Have You Seen the "World's Smallest" Wireless Mobile Printer?
|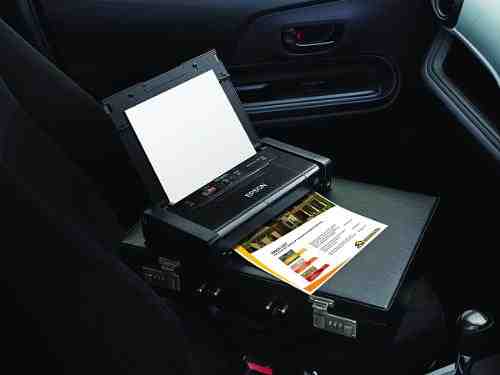 Epson America, Inc., a leading provider of printing solutions, today announced the Epson WorkForce WF-100.
It is claimed to be the world's smallest and lightest mobile printer. Designed for professionals on-the-go, the WorkForce WF-100 includes built-in wireless connectivity, Wi-Fi Direct and an integrated rechargeable battery, for printing from nearly anywhere.
The WorkForce WF-100 features wireless connectivity, allowing users to easily print from a range of devices, including tablets, smartphones and laptops.
The portable color inkjet printer includes Wi-Fi Direct for printing without a router, and a built-in battery that charges via USB or the included AC adapter. The WF-100 also features an automatic power-off feature to save battery life.
The WorkForce WF-100 enables convenient mobile printing with Epson Connect, a suite of free mobile printing solutions including Email Print, Epson Creative Print, Epson iPrint, Epson Remote Print and more.
Features include:
Support for Android Printing and Kindle Fire Printing
Support for Google Cloud Print with Gmail or Google Drive account. Enables printing from your Chromebook and Google Chrome without installing drivers or connecting cables.
Epson Connect Solutions Finder is available to help users quickly determine and compare which mobile solution supports their mobile devices or printer
The Epson WorkForce WF-100 ($349.99) will be available through online retailers starting in early November and will be available through major retail stores in January 2015.
Leave a Reply