LG G Watch R Wearable Features 18 Changeable Watch Faces
|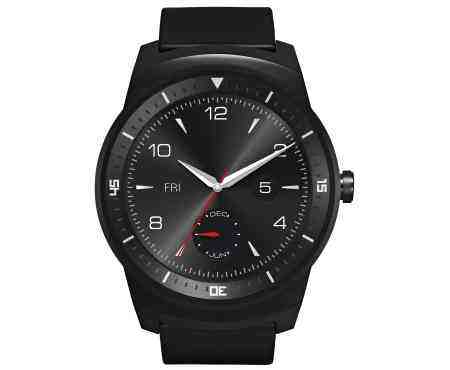 LG G Watch R will go on sale at T-Mobile in participating stores starting Nov. 19 for $299.99, LG and T-Mobile announced Friday. T-Mobile customers will be able to purchase the G Watch R online later this month.
The LG G Watch R is claimed to be the world's first watch-style wearable sporting a fully circular Plastic OLED (P-OLED) display. Inspired by classical and premium timepieces, the round face offers a trendy design to those who appreciate fashion, making viewing and productivity convenient for busy-bee, young professionals, says LG.
New to Android Wear devices, LG G Watch R allows for users to upload their own .mp3 files. This makes it convenient for travelers and those who are active to exercise with music or listen to audio books without carrying a smartphone or using up its battery.
---
Related Stories:
See Nicole Lapin's Financial Smartwatch – A Wearable Device
Pebble Smartwatch to Help You Track Your Domino's Pizza
---
"In the year of the wearable, it was important for us to create something that captivates U.S. consumers," said Morris Lee, senior vice president and head of North American sales and marketing, LG Electronics MobileComm. "The G Watch R embodies our promise to not only strike a fashionable balance of design, but also offer purposeful functionality that is demanded by our customers."
The G Watch R features more than 18 changeable watch faces on its P-OLED display to choose from and is compatible with any 22mm wide wristwatch strap.
Encased in durable steel and aluminum, powered by a 410 mAh battery and IP67 water and dust resistant rating, the G Watch R, according to LG, is designed and built to withstand some of life's latest adventures.
Users can pair LG G Watch R to Android devices running Android 4.3 or later, such as the LG G3, also available at T-Mobile.
Photo courtesy: LG
Leave a Reply