Football Fans to Get Field Experience on Their Mobiles
|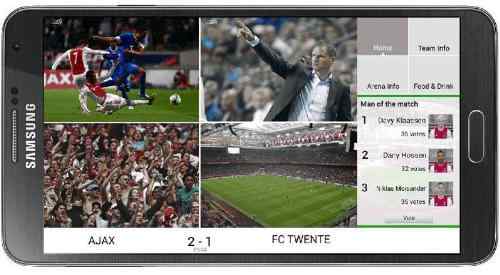 Tech major IBM (NYSE: IBM) and leading Dutch telecommunications provider KPN announced today they have developed a mobile app to engage fans in new ways.
The app integrates real-time, virtual experiences on a mobile device allowing users to participate in activities such as watching a live football game from multiple angles, voting for 'Man of the Match,' monitoring the scores of concurrent matches, and ordering food and beverages.
The app is being showcased at the Amsterdam Arena. With two million yearly visitors, it's the largest stadium in the Netherlands and home to the renowned football club Ajax.
Using the IBM MobileFirst application development portfolio, IBM and KPN collaborated to provide the Arena with sophisticated mobile solutions to enrich the in-stadium experience.
IBM and KPN created a mobile solution for streaming high quality, real-time video content and delivering on-demand services to fans' mobile devices at events.
The app's split screens and swipe technology provide users with instant access to several simultaneous high definition video streams, and multiple vantage points of the field.
The Amsterdam Arena app was designed and built by experts in the IBM Interactive Experience practice.
The app also showcases the possibilities of LTE broadcast. LTE broadcast is a technology that enables content to be "pushed" to the user via the 4G network, making it possible to send multiple video streams simultaneously to Arena visitors. Going forward, the LTE broadcast pilot will be further explored and expanded.
Leave a Reply