Delhi Election: Politicians to Talk Frankly. Oh Really?
|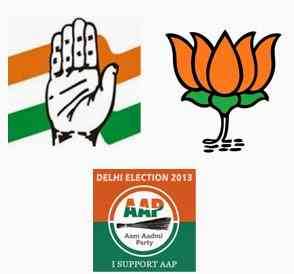 Delhi Election
Currently, AAP, BJP, and Congress are the three main parties in the fray for the forthcoming Delhi election.
By Rakesh Raman
A politician is such a creature that when they say they would talk frankly, you can safely assume that they are going to tell a bundle of lies frankly. Even a lie-detector will find it difficult to catch their lies. So, if you want to trust them, you should do it at your own risk.
Now let's meet a few such politicians who say they will talk to you frankly. Arvind Kejriwal (of Aam Aadmi Party or AAP), Kiran Bedi (of Bharatiya Janata Party or BJP), and Ajay Maken (of Congress) – who are in the fray for the Delhi election – say they will respond to voters' questions frankly.
They will be using a technology platform called Frankly.me to interact with the voters.
The Delhi Assembly election is scheduled to take place February 7. Currently, AAP, BJP, and Congress are the three main parties in the fray for the forthcoming Delhi election in India.
[ Also Read: Political Sibling Rivalry in Delhi Election ]
However, the direct fight is expected to be between AAP and BJP, as Congress has almost thrown in the towel after the party's crushing defeats in the last Delhi election and the recent Lok Sabha election.
Although Congress is doing some canvassing, in the absence of a popular leader, its election campaigns are totally listless. Instead of delivering a positive messaging about its election plans, Congress is only blaming AAP and BJP.
In the last Delhi election, Kejriwal had managed to become the Chief Minister of Delhi with support from Congress. But he could stay in the post just for 49 days – from December 28, 2013 to February 14, 2014.
According to the Frankly service, celebrities use frankly to reply back to the popular questions using video selfies. You can download the frankly app, ask questions, get them upvoted and get answers from the celebrities.
Alternatively, you can get to know about your favorite celebs by browsing their answers, gossip, and views on important issues, suggests the Frankly service.
By Rakesh Raman, the managing editor of RMN Company
You also can read: More Articles by the RMN Editor, Rakesh Raman
This article is part of our editorial initiative called
REAL VOTER
that covers political developments in India. Click here to visit
REAL VOTER
.
Leave a Reply