Pepsi Unveils New Digital Emoji Collection – #SayItWithPepsi
|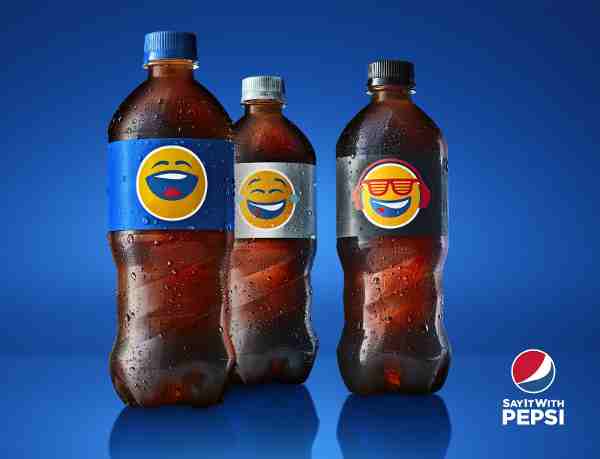 Pepsi announced Tuesday the expansion of its global PepsiMoji campaign, inviting fans across the U.S. to #SayItWithPepsi this summer.
Emojis are tiny smiley faces in the form of small digital icons that are used to express different emotions in digital communications. Pepsi believes that emojis have evolved to become a truly universal language.
"Pepsi is bringing a completely fun, fresh and shareable way for fans to express their emotions, as the brand brings emojis into the world like never before," said Chad Stubbs, VP of Marketing, Pepsi.
[ Coca-Cola Reveals New "One Brand" Packaging ]
"From unique five-second TV ads to an interactive Times Square Billboard to nearly half a billion PepsiMoji bottles across Pepsi, Diet Pepsi and Pepsi MAX hitting retail shelves, everyone will want to #SayItWithPepsi this summer."
With hundreds of proprietary PepsiMoji characters created by the PepsiCo Design & Innovation Center, fans can pick from a variety of themes, including food, sports, travel, music and more, to spark conversations and shareable moments.
The fun PepsiMoji catalogue is available for consumers to download for free on the Apple App and Google Play stores.
To support the new campaign, Pepsi is releasing a series of over 100 five-second TV ads on May 16 that showcase the wide variety and witty PepsiMoji characters.
Beginning in late-April, Pepsi, Diet Pepsi and Pepsi MAX in the U.S. will feature a variety of PepsiMoji designs on 20-ounce bottles, select bottle multi-packs and fountain cups for fans to share with one another.
Following release in markets including Australia, Canada, India, Mexico, Russia and Thailand, the PepsiMoji campaign will roll out around the world across the full Pepsi portfolio – Pepsi, Pepsi MAX and Diet Pepsi / Pepsi Light – throughout 2016.
Leave a Reply