Chile Debuts Interactive Tourism Promotion #TakeaBreakinChile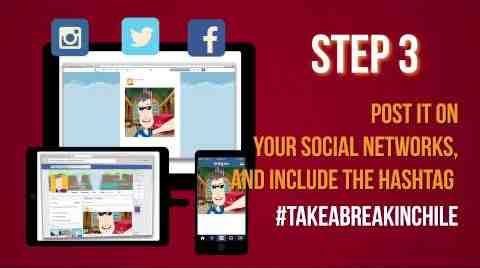 Turismo Chile is inviting New Yorkers to #TakeaBreakinChile. Chile is hosting an interactive tourism promotion at Grand Central Terminal from Friday, Oct. 24 to Monday, Oct. 27.
The activation will feature a giant cube where visitors can step inside to take a break from their daily routines, to experience Chile's tourism experiences from New York City.
"This activation aims to encourage Americans to travel to Chile by showcasing our world-class tourism experiences," said Tourism Undersecretary Javiera Montes. "The U.S. market is the fifth largest source of tourists to Chile, with more than 175,000 visitors in 2013, an average stay of 15.4 nights and total spending of more than $207 million."
The four days of Take a Break in Chile #TakeaBreakinChile feature various activities for visitors. In addition to living an experience in the giant cube, visitors can participate in a giveaway with the opportunity to win a trip for two to Chile, visiting Santiago and San Pedro de Atacama for 7 days.
Through October 30, participants can share photos of themselves with the cube on Instagram, Twitter, and Facebook with the hashtag #TakeaBreakinChile.
The winner will be chosen from those who have generated the most buzz on their social networks.