Apple CEO Tim Cook Offers Advice to Students
|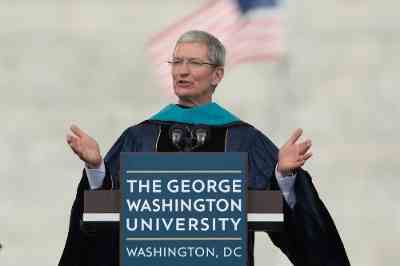 Apple CEO Tim Cook
Members of the George Washington University community gathered Sunday to celebrate the end of the university's 194th academic year.
With the Washington Monument at his back and an estimated 25,000 people in attendance, Apple CEO Tim Cook drawing on both personal anecdotes and historical figures urged graduates to have the audacity to challenge, and the courage to combine their moral beliefs with their vocational aspirations.
"There are problems that need to be solved, injustices that need to be ended, people that are still being persecuted, diseases still in need of cure," said Mr. Cook, who received an honorary degree.
"No matter what you do next, the world needs your energy, your passion, your impatience with progress. History rarely yields to one person, but think and never forget what happens when it does. That can be you. That should be you. That must be you."
Stories of personal conviction and a quest for knowledge populated Mr. Cook's 20-minute speech. He quoted from Dr. King's "Letter from a Birmingham Jail" and referenced Apple's mission to equip consumers with the tools to connect the world. He recalled his first meetings with the late Steve Jobs in 1997, and how they changed his life.
"In 1997 and 1998, Apple had been adrift for years, but Steve thought it could be great again," Mr. Cook said. "His vision for Apple was a company that turned powerful technology into tools that would help change the world for the better."
Mr. Cook's sensibility gave him pause. The world, he said, challenging the graduates, needs its next generation of citizen leaders to enter the arena.
"The process of discovering yourself, of inventing yourself or reinventing yourself, is about to begin in earnest," he said. "Work takes on new meaning when you feel you're pointed in the right direction—otherwise, it's just a job. And life is too short for that. We need the best and brightest of your generation to lead. You don't have to choose between doing good and doing well. Find your North Star, let it guide you in life and work and in your life's work."
In addition to Mr. Cook, GW President Steven Knapp conferred honorary degrees to two recipients who have made lifelong contributions to medicine and the humanities: Anthony Fauci, director of the National Institute of Allergy and Infectious Diseases at the National Institutes of Health, and Carole M. Watson, Ph.D. '78, former acting chairman of the National Endowment for the Humanities.
Dr. Fauci stressed the importance of staying lifelong learners, and admitted he wished he were still in the graduates' shoes, "where the learning curve is still steep and exciting."
Dr. Watson, who earned a Ph.D. in American cultural history from GW, thanked the Columbian College of Arts and Sciences, which, she said, "profoundly affected" her life and career. She warned graduates to stay away from cynicism and to strive for their highest ideals.
The university ceremony was one of more than a dozen events—including individual school celebrations, a doctoral hooding ceremony, senior class toast, Phi Beta Kappa induction and Interfaith Baccalaureate—held during GW's Commencement week, May 12-17.
Leave a Reply