StarMaker Helps You Make Music Video Selfies
|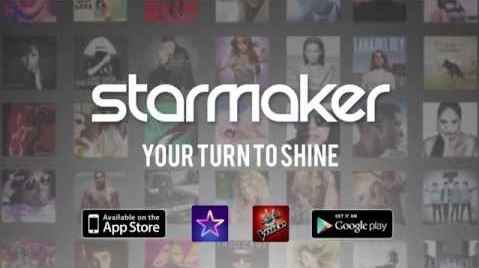 StarMaker Interactive, a leading music entertainment platform, has launched StarMaker 3.0 featuring video capture and share.
StarMaker now enables the creation and sharing of music videos recorded with onboard cameras. These "music video selfies" can be uploaded to YouTube.
To leverage the potential of this new platform, StarMaker built on its existing partnership with The Voice to create an opportunity for users to create music videos and have a chance at a callback audition to appear on the vocal talent show.
"We're giving the next generation of stars immediate access to music-loving fans around the world; a hand-held studio that can accelerate their industry exposure, fan base, and ultimately their career using something we all carry around in our pockets," said Nathan Sedlander, president and co-founder of StarMaker.
By using the front-facing camera on iOS and Android devices, users can now see and record video of themselves performing their favorite songs.
StarMaker provides an in-app singing guide with a game-like interface, and the company's proprietary algorithm creates an objective score based on the performance.
Highly shareable video and synchronized best-of-breed audio, with or without audio effects like the Auto-Tune, can then be uploaded to YouTube and shared across social platforms.
Already an official partner of The Voice entertainment franchise worldwide, StarMaker and the hit show have teamed up to offer users the chance to compete for a one-on-one audition with The Voice casting producers for Season 8 of the show. The audition runs June 24 to July 6, 2014 alongside The Voice summer tour.
To enter, aspiring stars can use the app to make their own music video from a selection of songs featured during the official The Voice Tour, and upload their audition video to YouTube.
StarMaker will employ its proprietary discovery engine in addition to its talent team to place the best talent on stage at the Nokia Theatre L.A. Live stop of The Voice Tour and the chance for a one-on-one audition with the hit show's producers, says the company.
StarMaker Interactive is a leading mobile talent platform with two apps available on the iOS and Android platforms: StarMaker: Sing + Video + Auto-Tune and The Voice: On Stage.
Both titles are free to download, enabling consumers to create videos of themselves singing the biggest hits, share videos online and compete with friends.
According to StarMaker, it has partnered with The Voice, American Idol, Disney, Universal Pictures and Philips Electronics to provide consumers with authentic and engaging music experiences. The company is headquartered in San Francisco.
Leave a Reply