Can an Apple Watch App Save Lives?
|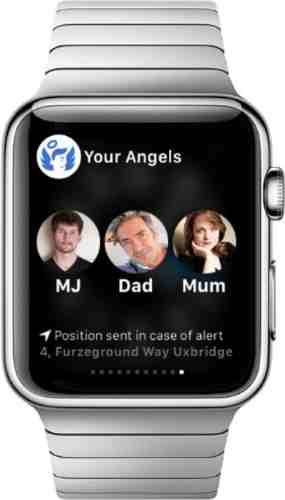 Woman-led startup VProject is launching Mr. Gabriel, a personal safety app designed for the Apple Watch, with the aim to save lives by leveraging wearable sensor technology and real-time data.
Inspired by founder Virginie Gretz's own experience, Mr. Gabriel sends alerts to the watch wearer's three pre-defined most trusted friends, requesting their help when the owner of the Watch is in a situation of danger / risk.
The various modes available on the app allow for automatic as well as manual Alert triggering. The app is free on the Apple Watch Store and regular Apple Store.
How it works
Before heading to the parking lot or crossing the campus on your own at night, activate the "Walk with me" mode. Or the "Run" mode prior to a late-night or early-morning solo run… or just leave the standard settings.
[ Delhi Police to Ensure Women Safety with Himmat Mobile App ]
Mr. Gabriel uses the Apple Watch's sensors on your wrist to pick up real-time data on your moves. A sudden stop, an abrupt move, you name it, and it will ask you if you need help.
If you don't respond, Mr. Gabriel will send an alert to the 3 most trusted friends you have named as Guardian Angels: a text message asking them to call your number ASAP, and providing them with your very precise geolocation to take action. You can also always trigger an alert manually, with one touch.
"I once had an accident myself, after a surgery and was unable to reach the phone in the room right next door. It took me short of 11 hours to crawl to it," said founder and CEO, Gretz. "It's your own guardian angel — hence the name, after Archangel Gabriel — who will make sure you're ok and will call your friends or family when it's crucial."
Mr. Gabriel is developed by VProject, a Paris-based startup. Led by Virginie Gretz, a woman, Mr. Gabriel plans to extend the offer as the company develops the artificial intelligence (AI) capacity of the app.
Leave a Reply