Meet the Winners of Intuit Small Business Local Buzz Programme
|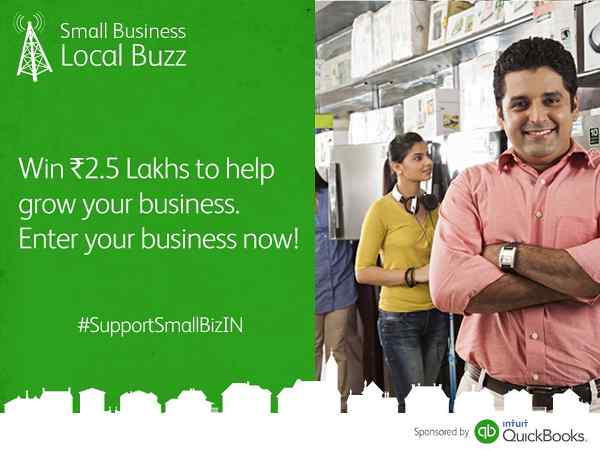 Intuit Inc. (Nasdaq: INTU), a leading provider of business and financial management solutions for small and mid-sized businesses (SMBs), has rewarded 10 Indian small businesses with Rs. 2.5 lakhs each. It was announced today, May 15.
These businesses are the winners of the small business social campaign called Small Business Local Buzz.
This initiative further strengthens Intuit's commitment of fostering the small business ecosystem in India by enabling them to use the money to grow their business, says the company.
[ Also Visit: Tech-Wise Knowledge Center for SMBs ]
The campaign witnessed participation from more than 500 small businesses across different sectors in India such as Information Technology, Education, F&B, Travel & Tourism, Handicrafts, Sports and Fitness.
While a large number of entries were received from the four metro cities, small businesses from Patna, Coonoor, Hyderabad, Dehradhun, and Ahmedabad also participated.
The winners were selected based on voter preferences and the verdict of a select jury comprising of Nikhil Arora, VP and managing director of Intuit and Vijay Anand, VP, India Development Center, India.
[ Also Read: Intuit QuickBooks Campaign for Delhi Daredevils Cricket Matches ]
The 10 winners of the Small Business Local Buzz programme in India are:
Buzzing Books – A Noida based online book store
Ruby J Consulting – An image consulting firm
Routofy – A travel portal that specialises in itinerary creations
Gambolla – A children's club that encourages learning through play
Bell Peppers – A restaurant that delivers food at your doorstep
Sunkalp Energy – An online platform that helps schools raise funds to install solar panels on their rooftops
Ecoscapes – A landscaping business focused on creating a healthy balanced future
ISEED – International School of Entrepreneurship, Education & Development, is an initiative focused towards entrepreneurship education and development.
Patisserie Nitash – An online bakery store
Indian Yards – Reviving the dying art of patch work quilting and empowering women in rural areas
"I congratulate the winners for their innovative marketing ideas and wish them success for the future," said Nikhil Arora, VP and managing director of Intuit India.
The Small Business Local Buzz programme is a part of Intuit's ongoing initiative to support the financial success of small businesses worldwide. This was stated to be Intuit's largest social campaign and was run simultaneously in four countries, including US, Canada, UK, and India.
Photo courtesy: Intuit
Leave a Reply