How Google Glass Serves the Foodservice Industry
|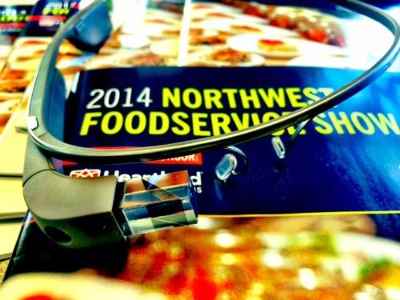 As wearable technologies are gaining momentum in the fast-evolving tech world, users in different segments are embracing wearble gadgets to leverage their benefits. And Google Glass is among the most popular wearable gear.
Close on the heels of Google Glass application in the practice of law, now it has just found a place in the Foodservice industry.
To engage its members and add a new dimension to its trade show presence, the Washington Restaurant Association (WRA) will unveil Google Glass technology at the 2014 Northwest Foodservice Show (NWFSS) on April 13-14.
This is said to be the first time the foodservice industry has featured Google Glass live streaming at a major trade show.
[ Also Read: Wearable Technology to Reveal the Foods You Like ]
The Google Glass trade show experience will utilize the recently launched Livestream Platform specific to Glass, and will allow the WRA to provide a unique first-hand perspective of this industry food show in the Pacific Northwest.
Several industry experts, exhibitors and attendees will be interviewed live using Google Glass.
Viewers will experience walking through the Foodservice Show through the eyes of industry insiders throughout the event. Viewers will be able to see, in real time, various products, services and events over the course of two days.
[ Also Read: Mobile Food Ordering Service EatStreet Raises $6 Million ]
"We wanted to take advantage of available cutting edge technologies to demonstrate the possibilities of the marriage between Google Glass and live streaming at these types of events," said Lex Nepomuceno, WRA's director of communications and technology.
WRA's Google Glass live streaming will also supplement a continuous live feed via Google Hangouts On Air and the WRA RetroCam. The live feeds can be accessed by the public at wraretro.com and the WRA and NWFSS Facebook pages.
Leave a Reply