Yahoo Introduces Yahoo Politics Digital Magazine
|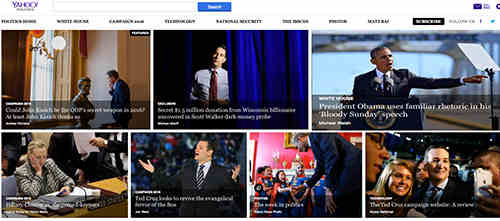 Yahoo Politics Digital Magazine
Yahoo Inc. has announced the launch of Yahoo Politics, the 12th category-specific digital magazine from the company.
Yahoo Politics digital magazine conceived to make news, break news and drive the political conversation, is the latest addition to Yahoo's suite of magazines, which also include titles for Beauty, Movies, Parenting, Style and Travel.
Under the editorial leadership of Yahoo News Group Editor-in-Chief Megan Liberman, the magazine's Editor-in-Chief Garance Franke-Ruta and Yahoo News Deputy Editor Dan Klaidman, Yahoo Politics will feature regular bylines from Yahoo's editorial team.
[ Real Voter – Politics in India ]
The team includes National Political Columnist Matt Bai, Chief Investigative Correspondent Michael Isikoff, Chief Washington Correspondent Olivier Knox, Senior Political Reporter Jon Ward and Congressional Correspondent Meredith Shiner.
Senior National Correspondent Lisa Belkin, West Coast Correspondent Andrew Romano, national correspondents Holly Bailey and Alyssa Bereznak, and Senior National Affairs Writer Liz Goodwin will also be regular contributors.
[ "Yahoo News on POTUS" to Launch on SiriusXM ]
Yahoo Politics will also feature regular video franchises and newsmaking interviews from Global News Anchor Katie Couric, produced by the Yahoo Studios team under the leadership of Vice President and Head of Yahoo Video, Anna Robertson, and Head of News for Yahoo Studios Tony Maciulis.
"We have an incredible political team at Yahoo News, and I'm thrilled that we now have a dedicated platform for their work," Yahoo News Group Editor-in-Chief Megan Liberman says. "In an era when so many people feel disconnected from the political process, we're offering context and perspective on the political world and what it means to our readers and viewers."
Photo courtesy: Yahoo
Leave a Reply