When You Want to Amplify Phone Sound Without a Hearing Aid
|
This personal sound amplifier is designed for consumers who need occasional help hearing but don't want a hearing aid.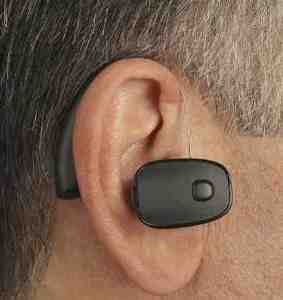 Sound World Solutions announces the availability of the CS50, the company's second model in the Bluetooth Series of personal sound amplifiers.
The CS50 features an Apple iOS 7-compatible customizer app, enabling users to adjust sound performance from an iPhone.
Also functioning as a Bluetooth headset for mobile phones, it will operate up to 15 hours on its rechargeable battery. In addition, it can stream a variety of audio sources including music, audio books and podcasts.
The CS50 features improved directionality for listening assistance in noisy environments, such as restaurants.
"Directionality is the only way to improve intelligibility in noisy environments," said Dr. Stavros Basseas, co-founder and president of Sound World Solutions. "We are very pleased with how much background noise the algorithms of the CS50 can attenuate. It is dramatically better than even our previous product."
Out of the box, users can adjust volume and access settings designed for specific environments. They can also toggle between three preset amplification profiles.
The device allows even greater personalization using a free app for Apple iOS 7, Android, Windows or Mac OS X.
The app walks users through a short personalization program to create a customized sound profile. The app also has an equalizer that allows users to adjust treble, mid-range and bass frequencies to further personalize their sound.
The CS50 is available for purchase in right- or left-ear versions for $349.99, backed by a no risk 30-day money back guarantee. Each kit contains two rechargeable batteries, a charging station, carrying case and a variety of ear tips for customizable fit.
Leave a Reply