What Exactly Is Apple Watch?
|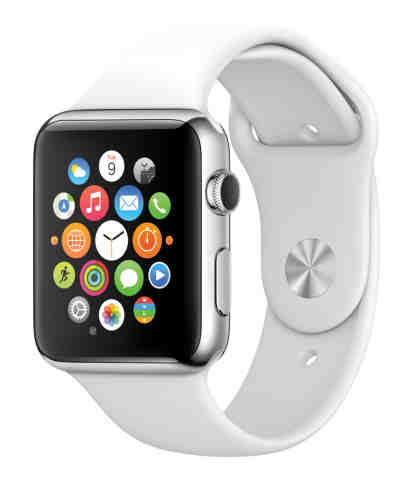 Apple unveiled Tuesday Apple Watch — a personal device — featuring new technologies and user interface. Apple Watch introduces a specially designed and engineered Digital Crown that provides an a way to scroll, zoom and navigate.
The Digital Crown is Apple's navigation tool since the iPod Click Wheel and iPhone Multi-Touch.
Apple Watch will enable you to communicate in new ways right from your wrist by sending and receiving messages, answering calls to your iPhone, and with Digital Touch, sending something as personal as your own heartbeat.
Apple Watch also introduces comprehensive health and fitness apps that can help people lead healthier lives. Apple Watch is available in three distinct collections—Apple Watch, Apple Watch Sport, and Apple Watch Edition.
---
Related Stories:
LG Introduces LG G Watch Powered by Android Wear
Panasonic Offers "World's First" Wearable Camera
Filmmaker Highlights the Dangers of Google Glass
---
"Apple introduced the world to several category-defining products, the Mac, iPod, iPhone and iPad," said Tim Cook, Apple's CEO. "And once again Apple is poised to captivate the world with a revolutionary product that can enrich people's lives. It's the most personal product we've ever made."
Apple Watch will be available in three collections. Apple Watch, with a polished or space black stainless steel case and a choice of straps; Apple Watch Sport, with a space gray or silver anodized aluminum case and Sport Band; and Apple Watch Edition, with an 18-karat rose or yellow gold case and a choice of straps exclusive to this collection.
Apple Watch straps include the Sport Band in black, blue, green, pink and white; the Classic Buckle in black and midnight blue; the Leather Loop in bright blue, light brown and stone; the Modern Buckle in midnight blue, brown, soft pink, rose gray and bright red; the Milanese Loop in stainless steel; and the Link Bracelet in brushed stainless steel and polished space black.
Apple Watch will be available in early 2015 starting at $349 (US). It is compatible with iPhone 5, iPhone 5c, iPhone 5s, iPhone 6 or iPhone 6 Plus running the latest version of iOS 8.
Leave a Reply