Touristly to Help You Create Your Own Itinerary to Asia
|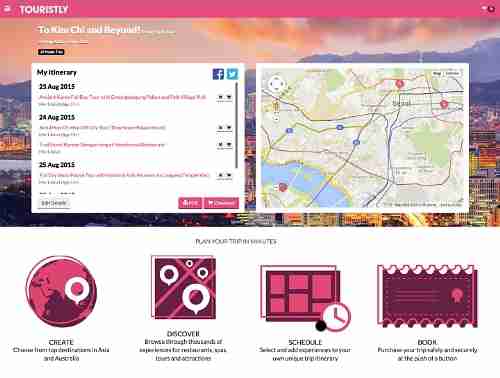 Using Touristly platform, you can discover curated restaurants, spas, tours and attractions at destinations in Asia and Australia and schedule them in a personalised trip itinerary.
It aims to meet the need of travellers who often book flights and hotels ahead of time to take advantage of price deals, but are then left with trying to figure out what to do once they are on location.
A central feature on Touristly is its trip planner that allows travellers to organize their holiday in their own customised trip itinerary by taking advantage of the curated experiences available on the platform.
[ Do Global Travelers Want Free Wi-Fi in Hotels? ]
Touristly's trip planner serves as a personal concierge that gives travellers the power to effectively become their own travel agent and create unique itineraries that they can book immediately on the platform, says the company.
"We developed Touristly when we saw how travellers struggled with planning their trip because they had to look through multiple websites and apps for travel ideas then try to book them at the best rates possible. This makes the whole exercise both time-consuming and confusing. At Touristly, we hope to make it easier for travellers to plan a great trip with amazing curated deals they can schedule and purchase right away," explained Aaron Sarma, founder and CEO of Touristly.
[ New Delhi: The Case of a Neglected City ]
Touristly features a curated selection of things to do in over 35 destinations in Asia and Australia and aims to be the go-to travel website for travellers who are planning a trip to Asia Pacific.
According to the company, it currently features over 3,000 experiences at the best prices for travellers to add to their trip itineraries. The company aims to continue adding more destinations and experiences to serve more visitors who are travelling inbound to Asia Pacific.
Leave a Reply