The Vanishing Game: Digital Adventure Story of Land Rover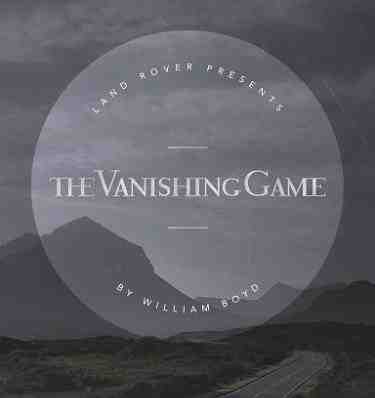 The Vanishing Game
Land Rover North America released Wednesday The Vanishing Game, a new interactive, digital book written by British author William Boyd.
This full-length, original online adventure thriller from the novelist follows protagonist Alec Dunbar on a suspenseful driving adventure from London to a remote part of Scotland.
Throughout the story, viewers can engage with key words that are embedded with imagery and video. For example, when a user selects the keyword "river," they see video footage of a Land Rover crossing a remote waterway in the Scottish Highlands.
Also embedded into The Vanishing Game's interactive experience are snippets of driving journeys from actual Land Rover owners, curated by the brand through the designated hashtag #WellStoried.
When readers scroll over certain words and passages, the story will pause as these owners' personal driving adventures are displayed on-screen.
---
[ Also Visit: Robojit and the Sand Planet – The Story of the Future Universe ]
---
"One of the collateral pleasures of writing The Vanishing Game was that it made me realize how prominently Land Rover has featured in my life—in Africa and Britain—to an almost mythic degree," said William Boyd.
The Vanishing Game is fully interactive, allowing readers to turn its various multi-media functions on and off throughout the experience. Readers can engage with the story on Tumblr through desktop, mobile and tablet devices, and will be encouraged to share its content across multiple social platforms.
On November 12, a separate eBook edition of The Vanishing Game was made available for free from Apple's iBooks Store on iPad and Mac. It will also be available for free from Amazon's Kindle Store on Kindle e-readers, Fire tablets, and the free Kindle app for Android, iOS, PC, Mac, and web browsers.
---
[ Also Read: Knowledge Stories for Children and Young Adults ]
---
"The Vanishing Game project captures how driving and adventures are a rich part of the Land Rover DNA," said Kim McCullough, VP of Marketing, Jaguar Land Rover North America.
Prior to The Vanishing Game, William Boyd wrote Solo, a James Bond continuation novel released in 2013. Boyd will participate in an "Ask Me Anything" on Reddit on November 23 at 11 a.m., EST as he promotes The Vanishing Game and answers community questions on a variety of topics.
Land Rover is promoting The Vanishing Game through a multi-media, marketing campaign, including integrations that further enhance reader engagement and interactivity.
Land Rover will expand the story narrative with custom content and paid posts inspired by Alec Dunbar and his journeys on various media.
The Vanishing Game will also be promoted with custom and interactive ad experiences using distribution partners like TripleLift and Undertone, and with social amplification on Tumblr, Facebook and Twitter.
The Vanishing Game project was developed for Land Rover by Y&R New York and its Tumblr site was produced by Tool of North America. Mindshare is managing media strategy, planning and partnerships.
Consumers can experience the story, which is brought to life through an interactive platform that invites readers to go beyond its words and fully experience the adventure in a multi-media manner, on a custom Tumblr page.
Land Rover is a British maker of Land Rover and Range Rover sport utility vehicles.