Telcel Invites You to Mexico City's Digital Village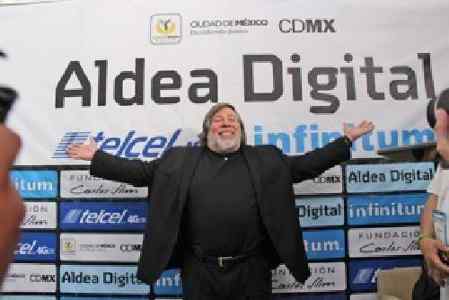 At this April's Telcel's Aldea Digital – Infinitum, some of the world's top technology leaders discussed various aspects of digital inclusion.
Leaders like Steve Wozniak, co-founder of Apple; Salman Khan, founder of the Khan Academy; and Yin Lou, Director of International Development at Coursera, agreed that broadband ought to reach everyone.
They explained how expanding Internet access is critical for improving education and nurturing an effective workforce.
Steve Wozniak, co-founder of Apple, highlighted Telcel's focus on the educational and societal improvements that spring from increasing digital inclusion.
From April 11-27, people of any age and any digital skill level could enjoy free access to the Internet via computers and tablets. The Digital Village also provides activities, workshops, and conferences led by world leaders in information technology.
Visitors could also attend workshops like My First Approach to the Computer, My First Email Account, Basic Robotics, Secure Browsing and Internet Security, Basic Digital Animation, Digital Entrepreneurship, the World of Social Networking, Building your First Windows App, and more.
The Digital Village provides free broadband Internet access with connection speeds of 100 Gigabytes per second via the Infinitum network, claimed to be the fastest speed ever offered at an event of this kind; offering bandwidth equivalent to a million people gaming online at once.
The event also offers mobile Wi-Fi and access to Telcel's 4G LTE network.
Telcel is Mexico's leading cellular phone company. It is a subsidiary of America Movil, one of the leading providers of wireless communications in Latin America with operations in 18 countries in the Americas.