Tata Comm. Launches The F1 Connectivity Prize
|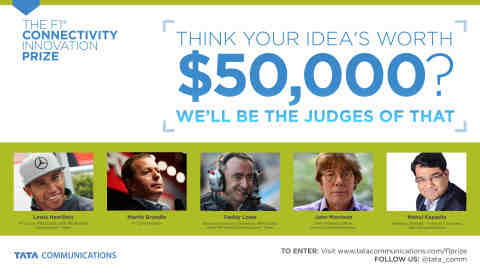 Tata Communications, a leading provider of communication solutions in India, today unveiled the F1 Connectivity Innovation Prize.
It is a global platform that will engage international brainpower against the demanding backdrop of Formula 1 racing.
By inviting Formula 1 judges and a USD $50,000 prize fund, the prize will foster and reward innovative and creative thinking in connectivity.
A distinguished panel of judges is comprised of 2008 FIA Formula One Drivers' World Champion and MERCEDES AMG PETRONAS Formula One Team driver, Lewis Hamilton, Lewis' 2014 World Championship-leading team Executive Director (Technical), Paddy Lowe; Formula One Management's Chief Technical Officer, John Morrison; Tata Communications' Managing Director of F1 Business, Mehul Kapadia and former F1 driver and Sky Sports F1 expert commentator, Martin Brundle.
The prize will catalyse next-generation technologies based around a series of three challenges announced over the course of the 2014 FIA Formula One World Championship.
The initiative will encourage entrants to test their creative and technical knowledge by expressing how they would solve real-world challenges for Formula 1 racing.
Additional prizes will include VIP trips to the 2015 Formula 1 Grand Prix De Monaco.
The three challenges will be announced exclusively on Tata Communications' F1 Connectivity Innovation Prize website, starting with a design evolution of the sport's display of live data provided by Formula One Management.
Leave a Reply