Mitsubishi to Unveil "World's Largest" High Definition Video Display
|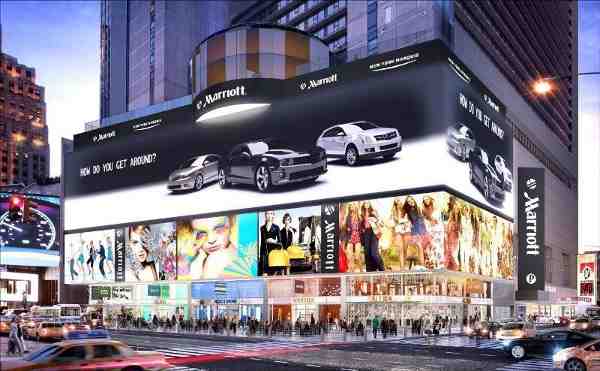 Mitsubishi High Definition Video Display
Mitsubishi Electric Power Products, Inc. announced Monday that it will unveil a Diamond Vision display at 1535 Broadway in New York City's Times Square that exceeds 4k ultra-high-definition pixel density.
The display is a massive 25,610-square-feet, and with a pixel density of 2,368 x 10,048, it will be the highest resolution LED video display in the world of this size, claims the company.
The installation will employ a Mitsubishi Electric Diamond Vision AVL-ODT10 large-scale display which provides 10mm pixel pitch spacing and uses a 3-in-1 surface mount LED (SMD) featuring Mitsubishi Electric's Real Black LED technology.
"With 23,793,664 individual physical pixels a video quality display of this size and density is a milestone in the industry. It exceeds 4k resolution by nearly 15 million pixels," says Todd Stih, national sales manager, Mitsubishi Electric Power Products, Inc.
Due to the very high resolution and pixel density of the display, Mitsubishi Electric supplied a special control system to provide pixel-to-pixel mapping of content and life-like images.
The image area of the display can be segmented to display multiple pixel-for-pixel 1080 HD or 4k images simultaneously. The display canvas allows for two 4k images to be displayed side-by-side, with pixels remaining in the height and width for other content.
The use of the Real Black LED technology allows for deep, rich black levels and vertical viewing angles in an outdoor LED display product. According to Mitsubishi, the characteristics of Real Black LED technology will ensure that Times Square crowds have a clear view of the display up close and in bright sunlight conditions.
Leave a Reply