Social Media Users Invited for White House Easter Egg Roll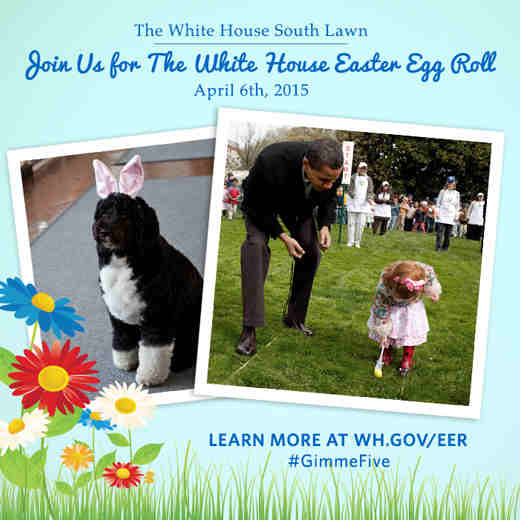 Social Media Users Invited for White House Easter Egg Roll
On Monday, April 6, President Barack Obama and First Lady Michelle Obama will host the 137th annual White House Easter Egg Roll, a White House South Lawn celebration.
It features games, sports and fitness zones, cooking demonstrations, live music, and the White House Easter classics like the egg roll and egg hunt.
You can apply to participate for a day of social media and Easter festivities at the White House Easter Egg Roll Social.
[ How President Obama Ensures Openness in Government ]
This year's Egg Roll theme is #GimmeFive, in support of the First Lady's Let's Move! initiative encouraging children to lead heathy, active lives.
You can apply for your chance to join other White House social media followers at the White House Easter Egg Roll Social. Registration closes on Wednesday, March 25th at 6 p.m. ET.
To be eligible for the Easter Egg Roll Social, you must follow an official White House Twitter, Instagram, Vine, or Facebook account.
Twitter: @WhiteHouse // @FLOTUS // @LetsMove
Facebook: facebook.com/whitehouse // facebook.com/letsmove
Instagram: @WhiteHouse // @MichelleObama
Vine: vine.co/whitehouse
Selected participants will be invited to join the Easter Egg Roll event on the South Lawn on April 6th. All applicants must have children ages 5-13.
Photo courtesy: White House