Shutterstock Sequence: An In-Browser Video Editing Tool
|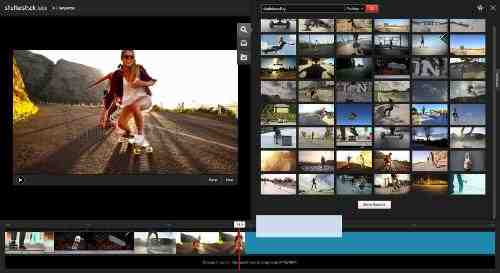 Shutterstock, Inc. introduces Sequence, an in-browser editing tool designed to provide an easy way for anyone to create and quickly share videos.
Sequence allows users to seamlessly integrate their own footage and music with Shutterstock's collection of more than 2 million video clips and music tracks.
"Our video collection grows by about 16,000 new clips each week, providing marketers, editors, and businesses with vast options to tell their stories. With Sequence's simplicity, storytellers can pinpoint the right footage and music in context to make choices early in the production process," said Ben Pfeifer, VP of New Business at Shutterstock.
Now available in Google Chrome, Sequence is the latest prototype from Shutterstock Labs, which develops search tools and product features. The introduction of Sequence follows image-discovery tool Palette and search tool Spectrum, created in-house by Shutterstock's team.
Shutterstock, Inc. (NYSE: SSTK), is a leading global provider of licensed photographs, vectors, illustrations, videos, and music to businesses, marketing agencies, and media organizations.
Leave a Reply