Rights Activist Held Again for Tweets in Bahrain
|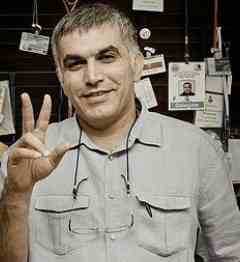 Nabeel Rajab
Human Rights Watch (HRW) reports that Bahraini authorities arrested the human rights activist Nabeel Rajab on April 2, 2015, apparently over his allegations on social media site Twitter about torture in a Bahraini prison.
Authorities should release him immediately and drop all charges that violate his right to free expression, HRW demands.
A video seen by HRW shows Rajab reading aloud from the arrest warrant presented to him during his arrest. In the video, he says that the warrant is related to his tweets about Jaw Prison and his accusation that prison authorities tortured prisoners.
[ Also Read: Twitter Tweet May Send Human Rights Activist to Jail ]
The Interior Ministry announced on Twitter on April 2 that Rajab had been arrested for "publishing information that would harm the civil peace and insulting a statutory body." This is the second time in six months that authorities have arrested Rajab for criticizing the government.
"Bahraini authorities should be investigating these allegations of torture in Jaw Prison, not arresting people who raise concerns about it," said Joe Stork, deputy Middle East and North Africa director of HRW. "Bahrain's allies, especially the United States and the United Kingdom, should call for Rajab's release without delay."
[ New Target of ISIS Terrorists: Twitter Boss Jack Dorsey ]
Rajab's son Adam, 17, videotaped the arrest at their home in the village of Bani Jamra at about 5 p.m. The video shows Rajab reading a 2-page arrest warrant given to him by a plain-clothes police officer. He tells his son he is being taken to the cybercrimes unit of the Criminal Investigations Directorate.
Rajab is faced by eight police officers, three of whom also videotaped the arrest. In the video, another nine officers are standing across the street, four in riot gear, one of whom is holding what appears to be a rifle, according to HRW.
This article is part of our RMN editorial section
Wars and Conflicts
that carries related news and views from all parts of the world.
Photo courtesy: Bahrain Center for Human Rights
Leave a Reply