Twitter Tweet May Send Human Rights Activist to Jail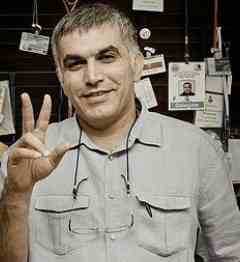 Nabeel Rajab
Authorities in Bahrain arrested human rights advocate Nabeel Rajab following a message on his Twitter account that said, "Many #Bahrain men who joined #terrorism & #ISIS came from security institutions and those institutions were the first ideological incubator."
Bahraini authorities claimed this "insulted" the Ministries of Defense and Interior. Article 216 of the country's penal code authorizes imprisonment for anyone who "offends by any method of expression the National Assembly or other constitutional institutions, the army, law courts, authorities or government agencies."
Rajab is the president of the Bahrain Center for Human Rights, a founder of the Gulf Center for Human Rights, and a member of the Human Rights Watch Middle East division's advisory committee.
[ No Nation Is Free of Human Rights Violations: Meenakshi Ganguly ]
"This is an open-and-shut freedom of expression case," said Joe Stork, deputy Middle East and North Africa director of Human Rights Watch. "Due process is not the issue here – Nabeel Rajab should never have been charged in the first place."
Human Rights Watch and the Gulf Center for Human Rights suggest that Bahrain's allies including the United Kingdom, Germany, France, and other European countries should publicly call on Manama to drop charges against Rajab, who could face up to six years in prison if convicted over a Twitter posting. A court ruling is expected Tuesday, January 20, 2015.
This article is part of our editorial section
Wars and Conflicts
that carries related news and views from all parts of the world.
Photo courtesy: Bahrain Center for Human Rights