Passengers See Technology as the Answer to Stress-Free Travel
|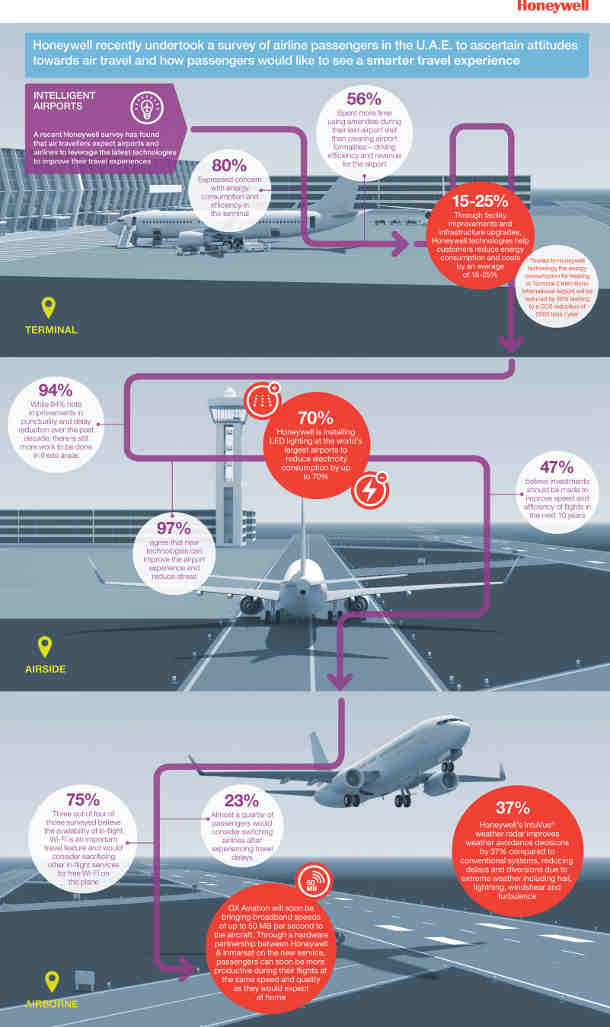 A survey conducted by Honeywell (NYSE: HON) in the United Arab Emirates (UAE) reveals air travel passengers are relying on new airport and in-flight technologies for a smarter, stress-free travel experience.
The survey highlights the importance of technology in making air travel easier for passengers at every stage of flight, from check-in to baggage claim.
With passenger numbers in the Middle East region expected to rise threefold by 2020 according to the International Air Transport Association, the survey reveals ways in which the latest airport and aircraft innovations are being used by passengers to beat congestion, minimize stress, save time, and stay connected.
Related Stories:
[ Are Smart Suitcases Really Smart? ]
[ Do Global Travelers Want Free Wi-Fi in Hotels? ]
Honeywell's survey finds that while there is a consensus among UAE passengers (94 percent) that airports and airlines have taken the right steps to improve punctuality and minimize delays over the past 10 years, many feel there is still more to be done.
Looking ahead, nearly half of travelers (47 percent) believe improving the speed and efficiency of flights should be the industry's top investment priority.
"Efficiencies inside the terminal and on board the aircraft are crucial to passengers' perception of air travel in the UAE," said Norm Gilsdorf, president of Middle East, Russia and Central Asia, Honeywell.
"With more people traveling through the region every year, this survey shows airports and airlines can increase customer satisfaction even further by investing in technology to minimize disruptions and stress, and create a smarter travel experience for passengers."
YouGov conducted the Honeywell survey in January 2015 in the UAE among 500 respondents who have traveled via flight in the past 12 months. Censuswide also carried out the survey among 1,000 Turkish respondents in the same time frame. Honeywell released the survey findings Monday, May 11.
Leave a Reply