Amcrest Smart Plug to Boost Wi-Fi Signals
|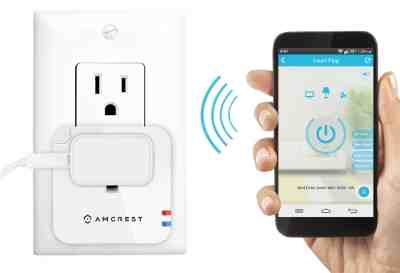 Amcrest, a video surveillance solutions provider, is now offering a Wi-Fi Smart Plug that turns an iPhone or Android smartphone into a home remote for all of the electronics, lighting and gadgets you use every day.
The new Smart Plug gives consumers a solution for automating devices in their home or office.
The plug-and-play set up with the Wi-Fi Direct feature provides immediate activation for any TV, computer, appliance, coffeemaker or light fixture. A bonus feature includes an Enhanced Wi-Fi Mode to strengthen and extend wireless signals in homes or offices.
[ Axis Bank's Free Wi-Fi Service… and Health Hazards of Wi-Fi ]
"With the Amcrest Wi-Fi Smart Plug, you have the ability to stay in control from anywhere in the world, 24/7 using a smart phone and our Connect App," said Adam Ravat CEO of Amcrest.
When you use the Wi-Fi Smart Plug to recharge smartphones, tablets, laptops and other battery based devices it knows when to stop sending a charge once the battery is full, ultimately preserving the life of the battery.
[ Do Global Travelers Want Free Wi-Fi in Hotels? ]
Automatic Intelligent Charging Protection is another handy feature included with the Wi-Fi Smart Plug, says the company.
Amcrest is a security products manufacturer and distributor delivering surveillance, GPS tracking and Home Automation products to consumers and business' in the US, UK, Canada, and Europe.
Leave a Reply