Microsoft Surface Pro 3: A Tablet to Replace Your Laptop
|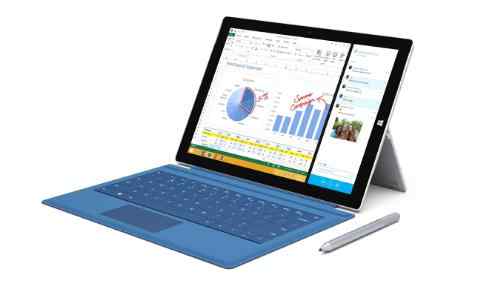 On Tuesday, Microsoft Corp. introduced Surface Pro 3 — a lightweight tablet to deliver the performance of a laptop.
According to Microsoft, Surface Pro 3 is a tablet and a laptop: multiple processor, RAM and storage options intersect with a sleek design that, with a simple snap or click, transform the device from a perfectly balanced tablet to a full-functioning laptop and back again — all in a package that is 30 percent thinner than an 11-inch MacBook Air.
Its 12-inch display and new, continuous kickstand provide the screen real estate and multiple viewing angles people need for work and play.
And the new Surface Pen — completely redesigned with form and function in mind — delivers a precise, luxurious drawing and note-taking experience with a single click of the pen.
"So many people carry both a laptop and a tablet but really want just one device that serves all purposes," said Panos Panay, corporate vice president, Microsoft Surface.
"Surface Pro 3 is the tablet that can replace your laptop — packing all the performance of a fully powered laptop into a thin, light and beautifully designed device. You'll love being able to carry a single device for your next class, workday or weekend getaway knowing you have all the power you need."
Starting at an estimated retail price of $799, Surface Pro 3 will be offered in multiple configurations featuring 4th-generation Intel Core i3, i5 and i7 processors.
Surface Pro 3, Surface Pro Type Cover and Surface Pen will be available for pre-order starting today, May 21, through Microsoftstore.com, Microsoft retail stores and select third-party retailers.
Beginning June 20 in Canada and the United States, customers can visit Microsoftstore.com, Microsoft retail stores, select third-party retailers and commercial resellers to purchase Intel Core i5 Surface Pro 3 and select accessories. Additional configurations will become available during August, and additional accessories will be available in the next few months.
By the end of August, Surface Pro 3 and select new accessories will become available for purchase in 26 additional markets, including Australia, Austria, Belgium, China, Denmark, Finland, France, Germany, Hong Kong, Ireland, Italy, Japan, Korea, Luxembourg, Malaysia, the Netherlands, New Zealand, Norway, Portugal, Singapore, Spain, Sweden, Switzerland, Taiwan, Thailand and the United Kingdom.
More information on Surface can be found at http://www.microsoft.com/surface.
Leave a Reply