Microsoft Presents Internet of Things for Home Cooking
|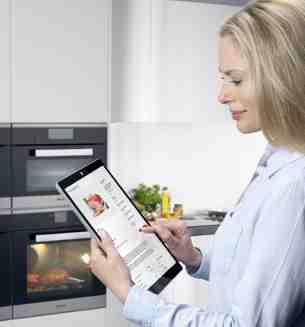 Miele & Cie. KG, a leading manufacturer of high-end domestic appliances and commercial equipment, is announcing a proof-of-concept study based on Microsoft Azure Internet of Things (IoT) services that will help usher in the next generation of smart appliances and home cooking.
The concept will allow home users to program their ovens to ensure their meals will come out perfectly cooked. The new technology comes from a collaboration between Miele and Microsoft to identify new Internet-enabled customer experiences.
[ Get Ready to Work in a Socially Networked Kitchen ]
Based on the partnership, Miele developed this concept, which allows users to browse recipes on Miele's website and choose from various meals. With the selection of a recipe, the necessary food preparation stages are downloaded to the user's smartphone or tablet and the matching program is loaded onto the oven through Azure.
The oven is programed to cook the specific meal using the proper operating mode, temperature, cooking time, humidity and other factors.
[ What Is the Cultural Relevance of Food? ]
"This assistance system incorporates temperature charts, times and the machine's special features, such as adding steam, to create the optimum roasting, cooking or baking results," said Dr. Eduard Sailer, executive director of Technical Affairs at Miele. "This allows people to get the best results out of their cooking appliances."
The use of Azure IoT services offers additional benefits, as it can scale to be made available to Miele customers worldwide. Currently, the joint project is classified as a study, but other applications are conceivable on the Microsoft platform, such as status report, remote diagnostics and predictive maintenance.
Leave a Reply