Jspeak: A Translation App for Travelers to Japan
|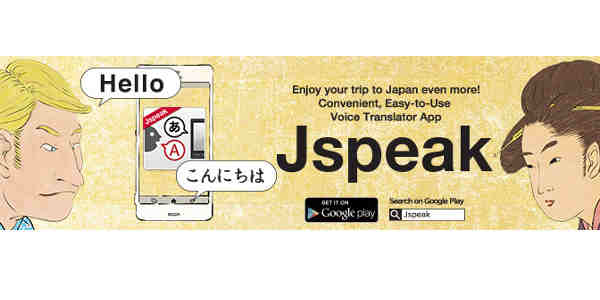 Jspeak: A Translation App for Travelers to Japan
Mobile services company NTT DOCOMO will launch its Jspeak face-to-face mobile translation service for smartphones and tablets, targeting travelers from abroad, on November 10.
Jspeak is modelled on DOCOMO's Hanashite Hon'yaku, the mobile-based automatic translation service now offered exclusively to DOCOMO subscribers in Japan.
Jspeak will enable Japanese and non-Japanese speakers to enjoy face-to-face conversations simply by speaking into a smartphone or tablet to get a translation as screen text and voice readout.
Ten languages — Chinese, English, French, German, Indonesian, Italian, Korean, Portuguese, Spanish and Thai — can be translated into Japanese and vice versa.
The service will offer a friendly interface and a preinstalled list of over 700 handy phrases for transportation, restaurants, hotels, shopping, hospitals and other common encounters. Users can create their own lists of favorite, frequently used phrases.
"We invite foreign travelers to experience the ease and convenience of international communication with our unique smartphone-based translator to make staying in Japan even more enjoyable," said Hozumi Tamura, a senior VP at NTT DOCOMO.
According to the Japan National Tourism Organization, foreign visitors to Japan reached a record 10 million in 2013. The Japanese government aims to double this figure by 2020.
Jspeak is available to mobile users from Australia, Brazil, Hong Kong, Indonesia, Malaysia, New Zealand, the Philippines, Singapore, South Korea, Taiwan, Thailand, the United States and the United Kingdom.
The app can be downloaded from Google Play with smartphones or tablets running on Android 4.0 to 4.4. Two plans will be offered — 0.99 US dollar for one week or 2.99 US dollars for one month, payable via the user's Google Play account.
Leave a Reply