Yash Raj Films Releases Touch Trailer of Byomkesh Bakshy
|
Tagos, an in-video discovery platform, and Yash Raj Films (YRF) launched today an Active version of the trailer of the upcoming movie Detective Byomkesh Bakshy!.
Tagos's Active technology, when applied to streaming videos, lets viewers explore the video by touching a point of interest on the screen.
This technology opens up a new way for Internet users to interact with video content. Here's how it works: When viewers watch the trailer activated with this technology, they can tap the screen with their finger or click with a mouse / pointing device to interact with a character, a location or discover a product, without intruding on the immersive nature of the content. It draws viewers deeper into the content and extends their engagement after the video has ended.
[ James Bond Spectre Teaser Trailer Released ]
Tagos technology uses advanced algorithms to detect points of interest as they move in real-time on the screen. The viewers can simply touch the image they want to explore, without interrupting the experience. All touches are saved and can be accessed by the viewer anytime on the Internet.
Engaged consumers want to interact, explore and shop from their favourite movies. Tagos enables these engagements via its platform. Many consumer impulses die at the level of instinct or intent. This approach allows it to travel quickly from intent to action and adds new a direct response property which the TV lacks.
[ Calcutta Kiss Released for Detective Bollywood Movie ]
Until now most broadcasters and premium video-content publishers have used the Internet the same way as TV (essentially a one-way medium). Using this platform, they get to leverage the two-way nature of the Internet, which allows an engaged viewer to explore the video content in deeper detail.
In doing so, it creates engagement opportunities previously unavailable to the content creators. The platform offers a video content exploration experience to viewers and in doing so offers brands, content owners and video publishers new engagement opportunities.
Yash Raj Films (YRF) is a Bollywood film production company in India.
Detective Byomkesh Bakshy! is based on Saradindu Bandyopadhyay's fictional detective, Byomkesh Bakshy and is a contemporary interpretation of Calcutta during the 1940′s.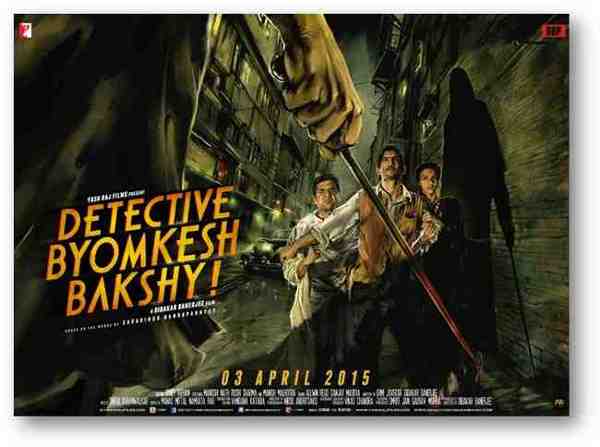 This detective Bollywood film is an adventure thriller mired in deep political intrigue. A young, astute and intelligent Byomkesh, fresh out of college, pits himself against a mega world villain, depending more on his intuition and instinct rather than concrete proof, to solve the case, sometimes overstepping the law if needed.
Yash Raj Films presents a Dibakar Banerjee Film, Detective Byomkesh Bakshy! releasing on April 3, 2015.
Photo / Video courtesy: Yash Raj Films
Leave a Reply