International Condom Day to Focus on Mobile Dating Apps
|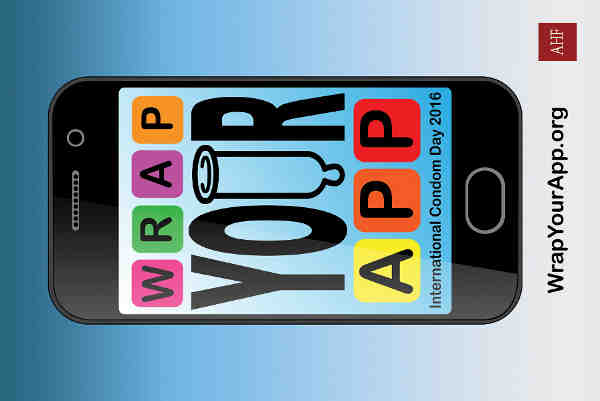 AIDS Healthcare Foundation (AHF), a global AIDS organization operating in 35 countries, again celebrates International Condom Day (ICD)—a February 13th holiday observed in conjunction with Valentine's Day—by promoting prevention of STDs, HIV and unwanted pregnancies through free condom distribution and safer sex awareness events and activities.
AHF will activate over 160 events worldwide, including 31 in the U.S. This year's International Condom Day theme in the U.S. is "Wrap Your App!"
The campaign promoting safety and HIV, STD and pregnancy prevention is a nod to tech savvy individuals built around a smartphone-themed graphic showing a menu of apps.
[ Also Read: How to Enjoy Free Sex Without Using Condoms ]
The 'Wrap Your App' campaign follows on the heels of the powerful AHF dating app billboard campaign that prompted Tinder to create a Health Safety Section page on its mobile app listing and linking to HIV and STD testing service locations.
[ Moods Condoms Rolls Out Social Media Campaign #PlayItRight ]
"With dating apps revolutionizing the way people—especially youth—are dating and hooking up, it is essential we be prepared for the repercussions this will have on STD and HIV rates among the next generation. We must engage teens and young adults now about the importance of protecting themselves with condoms, regardless of where or how they meet their partners," said Albert Ruiz, director of Wellness Programs for AHF.
[ Can Pink Viagra Increase Female Sexual Desire? ]
Domestically, AHF will host events across 13 states: California; Florida; Georgia; Illinois; Louisiana; Mississippi, New York, North Carolina, Ohio, South Carolina, Texas, Virginia; Washington; and the District of Columbia. These events are aimed specifically at youth, who account for 1 in 4 new HIV infections.
Events range from on-campus condom rallies and HIV testing drives (including a head-to-head testing competition between rival HBCUs Benedict College and South Carolina State University), to a "Love Thyself Women's Workshop" at the South Side Help Center in Chicago, to a community health fair at Ebenezer Baptist Church in Atlanta, GA.
Internationally, AHF partners will deploy similarly themed awareness and prevention International Condom Day campaigns under the slogan, "Wrap Your Love."
Leave a Reply