How Tommy Hilfiger's Virtual Reality Store Works
|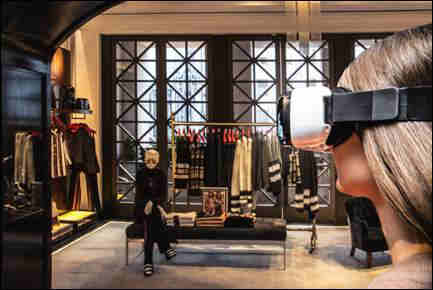 Leading retailer Tommy Hilfiger announced Tuesday that it will introduce a virtual reality shopping experience at select stores and wholesale partners worldwide, where consumers will be invited to watch the Fall 2015 Hilfiger Collection runway show in three-dimensional, 360 degree virtual reality.
The technology launched Tuesday at the Tommy Hilfiger store on 5th Avenue in New York City. It will be followed by additional locations in London, Paris, Milan, Amsterdam, Dusseldorf, Florence, Zurich, and Moscow.
Using a Samsung Gear VR device, shoppers will have an immersive virtual experience that creates the impression of sitting live in the front row at Manhattan's Park Avenue Armory at showtime on February 16, 2015, when the Fall 2015 Hilfiger Collection was originally presented.
[ Lionsgate to Launch John Wick Virtual Reality Game ]
The VR experience gives users a perfect view of the runway and provides an exclusive sneak peek backstage, which is typically inaccessible for individuals not involved in the show production.
The virtual reality installation lives in store in a dedicated area that reflects the American football theme of the Fall 2015 show, alongside the Hilfiger Collection designs, which consumers can shop immediately.
"Through virtual reality, we're now able to bring our one-of-a-kind fashion show to the retail setting," said Tommy Hilfiger. "From the incredible set and music to exclusive backstage moments, consumers will be able to watch the clothes move and see the collection in the original show environment – it's a compelling and interesting elevation of the traditional shopping experience."
According to the company, the introduction of virtual reality in stores reflects Tommy Hilfiger's attempt to elevate the shopping experience through digital innovation; these technological integrations in the retail space are evolving traditional brick-and-mortar set-ups and increasing opportunities for social engagement.
The concept has been created in collaboration with WeMakeVR, developers of 360 degree 3D virtual reality experiences. The show was captured with the WeMakeVR-Falcon, a proprietary camera.
The Hilfiger Collection virtual reality experience will be available at Tommy Hilfiger stores in London (Brompton Road and Regent Street); Amsterdam (P.C. Hooftstraat); Dusseldorf (Schadowstrasse); Milan (Piazza Guglielmo Oberdan); Florence (Piazza degli Antinori); Zurich (Bahnhofstrasse); Paris (Boulevard des Capucines and Champs-Elysees); and Moscow (Kuznetsky Most). The concept is also launching at wholesale with Selfridges, London's department store.
With a brand portfolio that includes Tommy Hilfiger and Hilfiger Denim, Tommy Hilfiger is one of the leading designer lifestyle groups.
Leave a Reply