How to Turn Your Selfies Into Stickers
|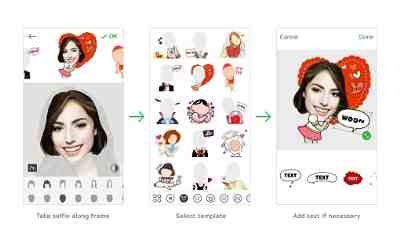 LINE Corporation, owner and operator of the free call and messaging app LINE, has announced the official launch of "ycon," an update to the LINE Selfie Sticker app.
Ycon allows users to insert selfies taken with their mobile phone's camera or saved on the device into templates to create original LINE stickers featuring their own face.
There are now over 1,000 different templates, with new ones being added weekly. Sticker templates can be customized by changing their size, brightness, or saturation, and even adding text.
[ UNICEF and LINE to Help Children in Developing Countries ]
The new version supports transparent backgrounds, making the stickers look and feel just like real LINE stickers, and enables the sending of stickers directly within LINE chats without having to start the ycon app.
The main features of the service are:
1. Easily turn selfies into stickers
Take a selfie that fits the frame, select a template, and position your photo – anyone can create a sticker in these three simple steps. Change the size and angle of the face, hairstyle, and facial shape, and add messages using speech balloons to create stickers for every occasion.
2. Send creations the same way as real LINE stickers
Stickers created using the app will be displayed in chats with transparent backgrounds, making them look and feel just like real LINE stickers.
3. Access created stickers from LINE chats
Simply tap the "+" button in LINE chats and select ycon to send created stickers without leaving the app. Since there is no need to open another app, users can send their original stickers without disrupting the flow of the conversation.
Available for Android and iPhone, the free ycon app is supported on different languages: Arabic, Chinese (Simplified and Traditional), English, French, German, Indonesia, Italian, Japanese, Korean, Malaysian, Portuguese (Brazil and Portugal), Russian, Spanish, Thai, Turkish, and Vietnamese.
LINE Corporation is based in Japan and develops and operates the LINE app for smartphones.
Leave a Reply