Have We Lost the Social in Social Media?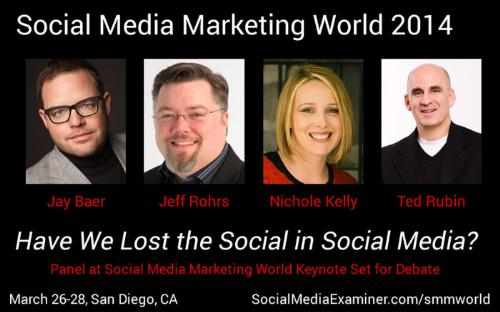 The social media marketing conference, Social Media Marketing World, plans to open the floor to top experts for the debate.
Social media is believed to be a big business today, with huge money spent on advertising in social networks by corporations, businesses of all sizes and social media consultants.
But even so, has the community spirit that made social media so popular gone missing? This is the subject to be discussed at the conference.
[ Also Read: Digital Marketing Simplified – Secrets of Social Media ]
Keynote moderator, Jay Baer, will pose that query and more to noted social media expert panelists, Ted Rubin (author, Return on Relationships), Jeff Rohrs (author, Audience) and Nichole Kelly (author, How to Measure Social Media) in a lively debate about whether it's more about the media or more about the social.
"All is not lost, but this is an important crossroads that marketers face today and really cuts to the core of where engagement and communities related to social networks are headed," explained Jay Baer of Convince and Convert.
[ Also Read: 10 Linkedin Flaws That Always Disturb Me ]
The conference, a three-day education and networking event hosted by Social Media Examiner happens this March 26th-28th in San Diego and showcases influencers at the forefront of social media.
"For the second year in a row, attendees will experience extensive networking, inspirational keynotes and educational assets," said Michael Stelzner, CEO and founder of Social Media Examiner, an online social media magazine.