GPS Watch That Promises to Keep You Fit
|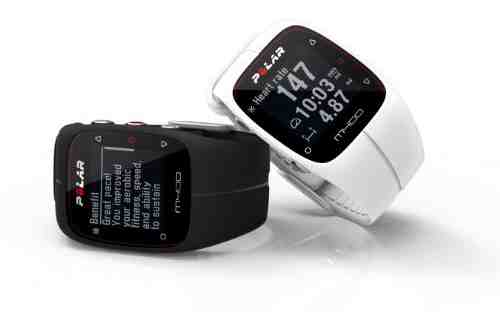 Polar, which offers heart rate monitoring and wearable sports devices, unveiled the Polar M400 GPS training watch with 24/7 activity tracking.
The M400 is for runners or anyone who wants to lead an active lifestyle. It will help you understand your body so you can get fitter faster, suggests the company.
The water-resistant M400 combines the GPS technology and 24/7 activity tracking with advanced sports technology using Bluetooth Smart. Available in white and black, the M400 adds style to any outfit.
You can track important training metrics like speed, pace, distance and altitude with the built-in GPS, while making sure your effort is always at the right intensity (with a Polar H7 heart rate sensor).
---
Related Stories:
LG Introduces LG G Watch Powered by Android Wear
Qualcomm and AT&T Help Timex Make Smartwatch
Here's the "World's Smallest" GPS Watch for Kids
---
Its built-in activity tracker gives a complete picture of all daily activities – your steps, calories burned and how restfully you slept. You will get alerts for inactivity directly on your wrist and through the Polar Flow app, offering suggestions on how to achieve your personalized activity goals, such as jogging for 50 minutes or walking for two hours.
The M400 keeps up with your training schedule with its extensive battery life of 9 hours in training time with GPS and sensors running, and up to 24 days if it is simply keeping time, with activity monitoring.
"The M400 captures comprehensive fitness and training data and then uses Polar Smart Coaching technology to provide runners with important feedback to reach their goals," said Herb Baer, Polar USA president. "The M400 offers runners integrated GPS, heart rate compatibility, 24/7 activity and sleep metrics all in one great looking wrist unit at an affordable price."
You can sync all training information to the Polar Flow web service and app, where you can easily plan and analyze workout sessions and monitor progress. Polar Flow celebrates your accomplishments and gives motivation to keep you moving. You will also get guidance on how to reach your goals during each workout.
Using Bluetooth Smart technology, the M400 updates software as needed, making it future-proof.
The Polar M400 is available this Fall on ShopPolar.com for $199.95, or can be purchased for $249.95 with the additional H7 heart rate sensor. The M400 will be available from leading sports retailers, local specialty retailers and online.
Headquartered in Lake Success, NY, Polar USA is a wholly owned subsidiary of Finland-based Polar Electro OY.
Leave a Reply