Couponraja Free Mobile App for Online Shopping Discounts
|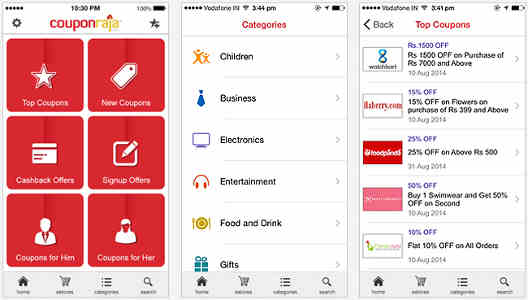 Couponraja, a coupon code publisher in India, announced Tuesday the launch of a mobile app for users interested in saving more while shopping online. The free app is now available for download on iPhone, Android and Windows phone.
The app will allow consumers to search favourable deals, discounts, offers while shopping online.
"The main aim of introducing the Couponraja mobile app is to make the lives of consumers easier while shopping online. With this app they will be able to get the latest offers on numerous brands and save money while shopping online," said Prasad Shejale, India CEO and co-founder Logicserve Digital, which manages Couponraja.
Features of the Couponraja mobile app include:
Minimal loading time for browsing through numerous discounts
Ability to pick favourite brands within the mobile app and be updated with live feeds for them
Creating a profile and storing your shopping choices to access it from any device
Ability to search from more than 2000 e-stores, 13 major categories from various online stores
The homepage provides you with the hottest deals and latest offers on your favourite brands curated by Couponraja
User friendly interface with social sharing options for your favourite coupons
This mobile app is stated to be the first step by Couponraja in the mobile space towards creating a saving tool for Indian consumers.
Leave a Reply